The Knicks have made it official, announcing today in a press release that Tom Thibodeau has been named the franchise's new head coach. ESPN's Adrian Wojnarowski first reported on Saturday that the two sides were finalizing a five-year contract.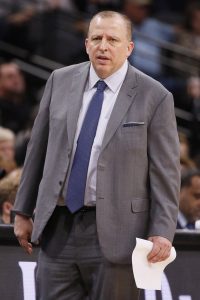 "Tom Thibodeau is a proven winner who gets the most out of the players and teams that he has coached," Knicks president of basketball operations Leon Rose said in a statement. "He will bring leadership, accountability, and a hard-working mentality to our organization. We are excited to bring him back to New York and look forward to collaborating with him and his staff toward a successful future."
An assistant coach with the Knicks from 1996-2004, Thibodeau also worked on coaching staffs in Minnesota, San Antonio, Philadelphia, Houston, and Boston before getting his first head coaching opportunity with the Bulls in 2010.
In five seasons as Chicago's head coach, Thibodeau led the team to a 255-139 (.647) record and five consecutive postseason appearances. The Bulls won four playoff series and earned a spot in the Eastern Finals during that stretch.
Thibodeau later served as the head coach and head of basketball operations in Minnesota, leading the Timberwolves to their first postseason appearance in 14 years during the 2017/18 season. However, his time with the Wolves came to an abrupt end in '18/19 following a messy divorce with star swingman Jimmy Butler.
Thibodeau didn't coach during the '19/20 season, opting to take the year off to visit with a number of teams and await his next opportunity. He was cited as a potential target for the Nets and Rockets as well, but with those teams still active and not guaranteed to be seeking new head coaches this offseason, Thibodeau was increasingly linked to the Knicks, the only club that has conducted a full-fledged coaching search so far this year.
Even as they interviewed 10 other candidates, the Knicks seemed focused on Thibodeau throughout their process. There was a time last week when it appeared as if talks between Thibodeau and the Knicks had hit a snag — Jason Kidd was said to be emerging as the new frontrunner, as veteran reporter Frank Isola confirmed in a recent radio appearance (8:35 mark). However, even then, Thibodeau was viewed as New York's top choice, and was eventually able to reach an agreement with the club that reunites him with Rose, his former agent at CAA.
The team that Thibodeau inherits is in flux. The Knicks have a number of veteran players on non-guaranteed contracts for next season after striking out in their quest for a superstar player last offseason. They're expected to be one of a handful of teams with significant salary-cap space this offseason and also have some interesting young pieces under contract, including center Mitchell Robinson and last year's lottery pick, RJ Barrett.
"I'm grateful for the opportunity to return to this historic franchise as head coach and work alongside a talented front office that I have great trust in and respect for," Thibodeau said in a statement. "I know what New York is like when the Knicks are successful and there is nothing comparable. I look forward to being a part of what we are building here and can't wait to get to work."
The Knicks are counting on Thibodeau to develop those young players and instill a winning culture. New York was 21-45 this season and missed the playoffs for a sixth straight season.
Photo courtesy of USA Today Sports Images. Dana Gauruder contributed to this story.