Hoops Rumors is previewing the 2020 offseason for all 30 NBA teams. We're looking at the key questions facing each club, as well as the roster decisions they'll have to make this fall. Today, we're focusing on the Cleveland Cavaliers.

---
Salary Cap Outlook
The Cavaliers have approximately $78.4MM in guaranteed money on their books for 2020/21 and will likely add Andre Drummond's $28.75MM player option to that figure, reducing their odds of creating any cap room this offseason.
The club should have its full mid-level and bi-annual exceptions available, with breathing room below the luxury tax line.
Our full salary cap preview for the Cavaliers can be found right here.
---
Roster Decisions To Watch
Options: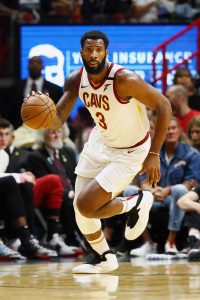 Andre Drummond, player option: $28,751,774 (Oct. 17 deadline)
Non-Guaranteed Contracts:
Two-Way Contracts:
Free Agents:
---
2020 Draft Assets
First Round:
No. 2 overall pick (pending lottery results)
The Cavaliers have the second-best lottery odds but could easily end up picking as low as No. 5 (27.8%) or No. 6 (20.0%). They have a 14.0% chance at the No. 1 pick and a 52.1% chance at a top-four selection.
Second Round:
---
Three Key Offseason Questions
1. What's the Cavaliers' plan for Andre Drummond?
When the Cavs acquired Drummond from the Pistons at the trade deadline, the cost wasn't exactly prohibitive — all it took to land the two-time All-Star was a pair of expiring contracts (belonging to John Henson and Brandon Knight) and a 2023 second-round pick.
For a team that doesn't typically attract top free agents, paying such a modest price for a productive center like Drummond seemed like a worthwhile investment. However, the deal raised some questions as well. For instance, will Drummond opt into the final year of his contract in 2020/21? Even before the coronavirus pandemic halted the season and complicated the salary cap outlook for next season, the answer to that question appeared to be yes.
With that in mind, did it make sense for Cleveland to sacrifice potential 2020 cap room for Drummond? And how will the acquisition affect incumbent big men like Kevin Love and Tristan Thompson? Does a Love/Drummond frontcourt pairing work? Will Thompson decide to sign elsewhere now that the center spot on Cleveland's depth chart is a little more crowded?
Although his style of play is perhaps more suited to the NBA of the 1990s or 2000s than today's modern game, Drummond's elite rebounding skills and his rim-protecting ability make him a solid contributor, and he's probably better than any free agent the Cavs could've convinced to sign in Cleveland using their cap space this fall.
Still, there are other options for rebuilding teams with cap room, such as taking on unwanted contracts in order to collect additional draft assets. The Cavaliers' decision to acquire Drummond suggests they're anxious to be more competitive in the short term. That's a somewhat risky play, though Drummond's ability as a rim-runner and lob catcher could help young guards Collin Sexton and Darius Garland develop further on offense.
I think evaluating Drummond's fit in 2020/21 before his potential free agency next offseason is a fairly low-risk approach, but reports have indicated that a multiyear contract extension isn't out of the question this offseason. I'd be more wary of going that route if I were the Cavs, since I'm unconvinced he's the long-term answer in the middle for the club.
2. Will perennial trade candidate Kevin Love be moved?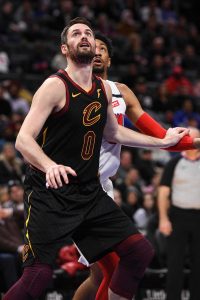 Ever since it became clear in 2018 that LeBron James was leaving Cleveland for a second time, Love has been viewed as a trade candidate. However, the possibility of a deal was complicated by the big-money contract extension he signed in July 2018, just weeks after LeBron's departure.
That extension will keep Love under contract through 2023 — he still has three years and $91.5MM on the deal after this season. By the time, he inks his next NBA contract, he'll be entering his age-35 season.
Love's injury history doesn't help his trade value. Neither does the fact that his numbers over the last two seasons have only been good, not great, even as he ostensibly became the Cavs' go-team option with LeBron and Kyrie Irving no longer around.
The Cavs have insisted over and over that they wouldn't consider a salary-dump deal for Love and would only move him if they get good value – such as first-round draft picks and/or young players – in return. At this point though, especially given how the coronavirus pandemic will affect teams' financial decisions, Love probably doesn't warrant such a package from any interested suitor.
It's possible the Cavs are just playing hardball and don't really expect much more than a Drummond-esque return for Love. But if they stick to their stated stance, it seems safe to assume that Love won't be going anywhere anytime soon, since no team will meet Cleveland's alleged price.
3. How will the Cavaliers use their lottery pick after selecting guards in 2018 and 2019?
About a month ago, Killian Hayes' agent dropped an interesting tidbit during a podcast appearance, suggesting that his client wasn't planning to meet with the Cavaliers, since the Cavs aren't expected to draft a guard in this year's lottery.
On one hand, that makes sense — in Sexton and Garland, Cleveland has two potential long-term building blocks. On the other hand, those two guards haven't really shown enough in the last two years to convince the franchise that the backcourt is set for the next five or 10 years. Armed with a top-six pick, the Cavs should perhaps still be in best-player-available mode in this year's draft, even if that player is another guard.
If the Cavs do make an effort to avoid drafting another guard, it would narrow their options in the lottery. James Wiseman and Onyeka Okongwu are the top centers available and could appeal to Cleveland. However, the wing looks like the team's most glaring need.
Zeroing in on a wing would mean the Cavs would be doing plenty of homework on the likes of Deni Avdija, Obi Toppin, Isaac Okoro, and Devin Vassell. There's no real consensus among draft experts on how to rank those players, as they all have their own strengths and weaknesses. Vassell is the best shooter of the bunch, while Okoro is probably the strongest defender. Avdija has promising play-making ability, while Toppin – who is more of a power forward – is one of the draft's most intriguing athletes.
Obviously, the Cavs' pick will depend in large part on where they land in the draft and which players are available when they're on the clock. But if the team prefers a wing, it would be interesting to see what general manager Koby Altman does if he lands a top-two pick. Would the Cavs consider trading down a little if another team wants to move up for a guard like LaMelo Ball or Anthony Edwards?
Information from Basketball Insiders and ESPN was used in the creation of this post. Photos courtesy of USA Today Sports Images.