Hoops Rumors is looking ahead at the 2020/21 salary cap situations for all 30 NBA teams. Due to the impact of the coronavirus pandemic on the NBA, it's impossible to know yet where the cap for 2020/21 will land. Given the league's lost revenue, we're assuming for now that it will stay the same as the '19/20 cap, but it's entirely possible it will end up higher or lower than that.

The Cavaliers' win-loss record says their 2019/20 season played out exactly as expected — projected by oddsmakers to be approximately a 24-win team, Cleveland was on a 24-win pace when the NBA went on hiatus.
However, the path the club took to its 19-46 record – including keeping big men Kevin Love and Tristan Thompson, trading for Andre Drummond, and parting ways with first-year head coach John Beilein – wasn't quite so predictable.
Depending on what happens this offseason with Drummond, the Cavs may enter the 2020/21 league year without any cap room, so major changes aren't necessarily coming. The franchise will instead focus on continuing to acquire and develop young talent as its rebuild continues.
Here's where things stand for the Cavaliers financially in 2020/21, as we continue our Salary Cap Preview series:
Guaranteed Salary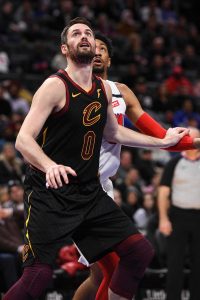 Kevin Love ($31,258,256)
Larry Nance Jr. ($11,709,091)
Dante Exum ($9,600,000)
Cedi Osman ($8,840,580)
Darius Garland ($6,720,720)
Collin Sexton ($4,991,880)
Dylan Windler ($2,137,440)
Kevin Porter ($1,717,981)
J.R. Smith ($1,456,667) — Waived via stretch provision.
Total: $78,432,615

Player Options
Team Options
Non-Guaranteed Salary
Restricted Free Agents
Unrestricted Free Agents / Other Cap Holds
Tristan Thompson ($27,808,695): Bird rights
Matthew Dellavedova ($14,411,250): Bird rights
No. 5 overall pick ($6,400,920)
Ante Zizic ($3,872,215): Bird rights 1
Channing Frye ($1,620,564): Non-Bird rights 2
Nik Stauskas ($1,620,564): Non-Bird rights 2
Total: $55,734,208
Offseason Cap Outlook

Drummond's player option is the wild card for the Cavaliers. If he opts out, there's a path for the team to carve out some salary cap room, but with the cap in flux as a result of COVID-19, exercising that $28.8MM option looks like the safe play for the veteran center. That would eliminate Cleveland's chances of creating cap space.
How much flexibility the Cavs ultimately have below the luxury tax line will hinge on a few other factors, including whether or not the team re-signs Thompson.
Cap Exceptions Available
Mid-level exception: $9,258,000 3
Bi-annual exception: $3,623,000 3
Trade exception: $3,837,500 (expires 12/24/20)
Footnotes
The Cavaliers can't offer Zizic a starting salary worth more than his cap hold, since they declined his rookie scale team option for 2020/21.
The cap holds for Frye and Stauskas remain on the Cavaliers' books because they haven't been renounced after going unsigned in 2019/20. They can't be used in a sign-and-trade deal.
This is a projected value.
Note: Minimum-salary and rookie-scale cap holds are based on the salary cap and could increase or decrease depending on where the cap lands.
Salary information from Basketball Insiders and Early Bird Rights was used in the creation of this post. Photo courtesy of USA Today Sports Images.