The Bulls have parted ways with head coach Jim Boylen, announcing today in a press release that he has been relieved of his duties. A search for the team's next head coach will begin immediately, according to the release.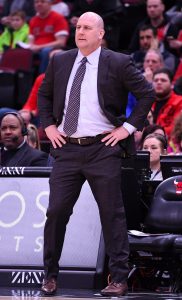 "After doing a comprehensive evaluation and giving the process the time it deserved, I ultimately decided that a fresh approach and evolution in leadership was necessary," new executive VP of basketball operations Arturas Karnisovas said in a statement. "This was a very difficult decision, but it is time for our franchise to take that next step as we move in a new direction and era of Chicago Bulls basketball."
Boylen, who took the reins from Fred Hoiberg during the 2018/19 season, led the Bulls to an underwhelming 39-84 (.317) record during his brief tenure as head coach and didn't always see eye-to-eye with his players, including standout guard Zach LaVine.
When Karnisovas took over as Chicago's new head of basketball operations in the spring, he indicated that he wanted to take some time to evaluate Boylen, though he hasn't had many opportunities to do so in recent months. The Bulls weren't invited to the NBA's 22-team restart in Orlando, and still haven't approved organized practices or scrimmages for the eight teams left out, leaving those clubs to conduct individual workouts this summer.
Reports dating back to May have suggested that Karnisovas and new GM Marc Eversley were leaning toward making a change, but more recent reports cast doubt on that plan, suggesting that financial factors could motivate the team to stick with Boylen. Given today's news, it appears Bulls ownership is on board with eating the remainder of Boylen's modest contract.
Sixers assistant Ime Udoka and Raptors assistant Adrian Griffin have previously been cited as possible candidates to become the Bulls' next head coach. ESPN's Adrian Wojnarowski (Twitter link) adds a few more names to that list of potential targets, suggesting that Nuggets assistant Wes Unseld Jr., Bucks assistant Darvin Ham, and former Nets coach Kenny Atkinson are expected to receive consideration as well.
Chicago will be the second team to conduct a formal head coaching search in 2020, joining the Knicks, who hired Tom Thibodeau last month. The Nets also intend to launch a search for a permanent head coach when their season ends, with the Rockets, Pelicans, and Sixers among the other teams worth keeping an eye on.
Photo courtesy of USA Today Sports Images.