Hoops Rumors is previewing the 2020 offseason for all 30 NBA teams. We're looking at the key questions facing each club, as well as the roster decisions they'll have to make this fall. Today, we're focusing on the Portland Trail Blazers.

---
Salary Cap Outlook
Accounting for their guaranteed salaries, player options for Rodney Hood and Mario Hezonja, and a cap hold for their first-round pick, the Trail Blazers have over $104MM in commitments on their books for 2020/21. That probably eliminates the possibility of cap room, but the team should be able to stay out of the luxury tax — its decisions on certain free agents and Trevor Ariza's partially guaranteed salary will likely be made with the tax line in mind.
Depending on how far over the cap Portland goes, the team will have either the full mid-level ($9.3MM) and bi-annual ($3.6MM) exceptions available, or will be limited to the taxpayer MLE ($5.7MM).
Our full salary cap preview for the Trail Blazers can be found right here.
---
Roster Decisions To Watch
Options:
Rodney Hood, player option: $6,003,900
Mario Hezonja, player option: $1,977,011
Non-Guaranteed Contracts:
Trevor Ariza ($12,800,000)

Note: Partially guaranteed for $1.8MM.
Two-Way Contracts:
Free Agents:
---
2020 Draft Assets
First Round:
Second Round:
The Trail Blazers have their own two picks in the 2020 NBA draft. As a result of their summer playoff push, their first-round pick moved out of the lottery and down to No. 16.
---
Three Key Offseason Questions
1. Will Hassan Whiteside and/or Carmelo Anthony be re-signed?

With Jusuf Nurkic and Zach Collins out for most of the 2019/20 season with injuries, Whiteside was asked to play a major role in the Trail Blazers' frontcourt, and it would have been unfair to expect a much better performance than the one he provided.
The former Heat big man averaged 15.5 PPG, 13.5 RPG, and a league-leading 2.9 BPG in 67 games (30.0 MPG). Portland had a +2.7 net rating when he played, compared to just -5.5 when he sat.
Those numbers don't tell the whole story, of course. Whiteside's net rating was buoyed by sharing the court so often with Damian Lillard and CJ McCollum. And while his individual numbers were impressive, he's not an especially versatile defender and his effort can be inconsistent.
An unrestricted free agent this offseason, Whiteside won't match the $27MM he earned in 2019/20, and the Blazers should probably be wary about offering him even half that amount for '20/21. Nurkic will be back in the starting lineup next season, and Collins' role in the frontcourt should be increased as he continues to develop. Whiteside would be a useful depth piece, but Portland would probably be better off using its cap flexibility to focus on wings, perhaps opting instead for a lower-cost backup center who can stretch the floor a little.
Prioritizing wings could bode well for Anthony, who spent time at small forward when the Blazers got healthy and pivoted to jumbo lineups during the summer restart. Carmelo isn't the dynamic scorer he once was and can't be relied upon for lockdown defense, but he was a great fit in Portland as a secondary scorer, averaging 15.4 PPG with a .385 3PT% in 58 regular season games and making some big shots during the Blazers' push for the No. 8 seed.
All indications are that the Blazers and Anthony have mutual interest in a reunion, so it may come down to the price tag — Carmelo's minimum-salary contract was a bargain for Portland in 2019/20, but he may not come so cheap next season, and the club will have to decide how high it's willing to go to bring him back. With only Non-Bird rights on the veteran forward, the Blazers would have to dip into their mid-level or use their bi-annual exception to offer him more than about $3MM.
2. Will Trevor Ariza be retained?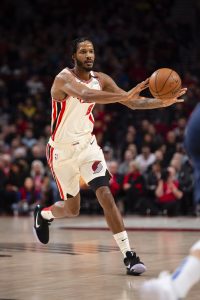 Portland's decision on Anthony may hinge on part on what the team does with Ariza, another veteran forward who is a more effective defender than Carmelo, albeit not nearly as dangerous a scorer. Only $1.8MM of Ariza's $12.8MM salary for 2020/21 is guaranteed, so the team could clear $11MM from its books by waiving him.
However, clearing that money wouldn't create any extra cap room for the Blazers, who figure to operate as an over-the-cap team whether or not Ariza is around. That fact, combined with Ariza's strong production for Portland last season (11.0 PPG on .491/.400/.872 shooting in 21 games), should help ensure that the 35-year-old is retained.
That doesn't mean Ariza is a lock to spend the entire season with the Blazers. His expiring contract could be useful in a trade if there's an opportunity for the club to acquire a younger and/or more impactful wing.
However, it wouldn't be a surprise if Ariza finishes out his contract in Portland. In their first-round loss to the Lakers this summer, the Blazers were missing a player like Ariza (who had opted out of the restart) — a versatile defender with enough size to guard LeBron James. While the team will only play the Lakers a handful of times in 2020/21, Ariza's ability to guard similar opposing frontcourt scorers should come in handy going forward.
3. What are the Blazers' expectations for 2020/21?

Injuries to Nurkic, Collins, and Rodney Hood nearly sunk the Trail Blazers' playoff chances in 2019/20, as Lillard and McCollum battled valiantly to keep the club within striking distance of the No. 8 seed. When Nurkic and Collins returned during the restart, Portland looked like a different team, compiling a 6-2 record in seeding games and defeating the Grizzlies in the play-in game before running into the top-seeded Lakers in the first round.
With almost all their top players under contract and Hood expected to be healthy, the Blazers should enter the 2020/21 season with increased expectations. After all, they're only a year removed from an appearance in the Western Finals. And if the Lakers end up making a championship run this fall, Portland can probably convince itself it would've made more noise in the postseason against a different opponent.
Still, the Western Conference will be more competitive than ever next season and it would be risky to pencil in the Blazers for a top-five seed and a playoff series win or two. Lillard is a star and McCollum is a strong second option, but Portland still seems to be one impact player away from being a true title contender.
My best guess is that the Blazers will enter 2020/21 betting that a savvy mid-level addition and better health luck will help push them into the contender conversation, but I think they may eventually have to turn to the trade market to try to find that missing piece.
Armed with all their future first-round draft picks and with promising young players like Collins, Gary Trent Jr., Anfernee Simons, and Nassir Little, the Blazers have the pieces necessary to put together an intriguing package if a star becomes available. It will be interesting to see whether Neil Olshey and the front office start to feel any urgency to push their chips into the pot and try to maximize their window while Lillard (who turned 30 in July) is still in his prime.
Information from Basketball Insiders and ESPN was used in the creation of this post. Photos courtesy of USA Today Sports Images.