The NBA has officially announced its All-NBA teams for the 2019/20 season. Voting was completed prior to the league's restart in July and was based on results through March 11.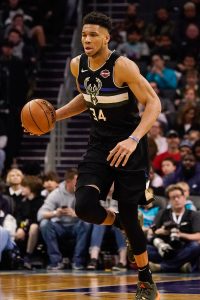 Bucks forward Giannis Antetokounmpo and Lakers forward LeBron James, widely considered the two frontrunners for this year's MVP award, were the only two players to be unanimously voted to the All-NBA First Team this season. Rockets guard James Harden, Lakers big man Anthony Davis, and Mavericks guard Luka Doncic rounded out the First Team.
The full All-NBA teams are listed below, with their vote totals in parentheses. Players received five points for a First Team vote, three points for a Second Team vote, and one point for a Third Team vote, so Giannis and LeBron scored a perfect 500 — First Team nods from all 100 voters.
All-NBA First Team
All-NBA Second Team
All-NBA Third Team
Among the players who just missed the cut were Bucks forward Khris Middleton (82 points), Sixers center Joel Embiid (79), Wizards guard Bradley Beal (32), and Raptors guard Kyle Lowry (26). A total of 11 other players also received at least one All-NBA vote — the full results can be found right here.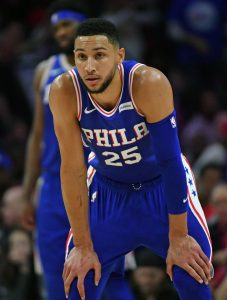 Today's announcement is great news from a financial perspective for Siakam and Simmons. As a result of Siakam's Second Team nod and Simmons' Third Team spot, both players will earn starting salaries worth 28% of the 2020/21 salary cap, rather than 25%. Players who sign rookie scale extensions can earn maximum salaries up to 30% of the cap if they negotiate Rose Rule language into their deals.
The exact value of those new contracts will depend on where exactly the '20/21 cap lands. Assuming it stays the same as in 2019/20 ($109.141MM), Siakam's four-year extension would be worth $136.9MM instead of the $122.2MM it'd be worth if it started at 25% of the cap. Simmons' five-year pact would be worth $177.2MM rather than $158.3MM.
While it's also worth noting that All-NBA berths are of great importance to players seeking super-max contracts, there aren't any real developments to report on that front as a result of this year's votes. Antetokounmpo and Gobert remain eligible for super-max extensions, but they'd already qualified based on their previous accolades.
Embiid would have become super-max eligible in 2021 if he had earned an All-NBA spot, but he'll need to make an All-NBA team next season to gain eligibility now, as ESPN's Bobby Marks tweets.
Hoops Rumors readers accurately picked 12 of this season's 15 All-NBA players in our spring poll. Beal, Embiid, and Devin Booker were your picks who didn't make the official list. Of the 12 who made it, 11 made the exact team you projected, with Paul (who made Second Team instead of Third Team) representing the only exception.
Photos courtesy of USA Today Sports Images.