Veteran swingman Kentavious Caldwell-Pope is expected to be among the Lakers turning down a player option for the 2020/21 season, sources tell Shams Charania of The Athletic. Earlier reports indicated that Rajon Rondo is likely to opt out and that Anthony Davis plans to do the same.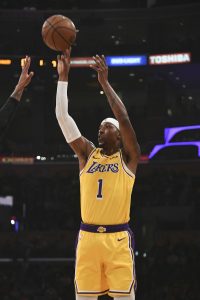 The second-year option on Caldwell-Pope's for next season is worth approximately $8.54MM, but there's a perception that he has outperformed that figure and could be in line for a raise and/or a longer deal after essentially acting as the Lakers' third option during the team's NBA Finals victory.
Having put up relatively modest numbers (9.3 PPG on .467/.385/.775 shooting) during 69 regular season games (25.5 MPG), Caldwell-Pope made some big shots in the playoffs, knocking down 42.1% of his three-point attempts in the first three rounds and then averaging 12.8 PPG in the Finals, the third-highest scoring average on the team behind LeBron James and Davis. He also provided strong perimeter defense.
Caldwell-Pope has spent the last three seasons with the Lakers and the two sides have "significant mutual interest" in reaching a new agreement, per Charania. Los Angeles holds KCP's Bird rights, giving the club plenty of flexibility to sign him to a new contract worth essentially any value up to the max.
The 27-year-old is expected to receive interest from a handful of external suitors, according to Charania, who identifies the Hawks as one team that could "emerge with interest."
[RELATED: NBA Player Option Decisions For 2020/21]
Besides Caldwell-Pope, Rondo, and Davis, the Lakers with player options for 2020/21 include Avery Bradley and JaVale McGee. They're also candidates to opt out, though their intentions remain unclear for now.
Photo courtesy of USA Today Sports Images.