Lakers point guard Rajon Rondo is likely to decline his $2.69MM player option for the 2020/21 season, a source familiar with the situation tells Broderick Turner of The Los Angeles Times. Chris Sheridan of BasketballNews.com first reported that Rondo is expected to opt out of his contract.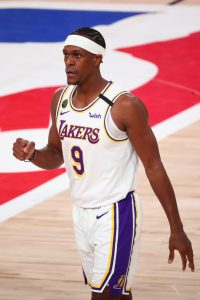 The deadlines for '20/21 player option decisions remain up in the air, but will likely fall sometime in late November, so Rondo still has plenty of time to reverse course and opt in. However, it makes sense that he'd seek a new deal, even if he intends to remain in Los Angeles.
Rondo's current two-year contract is worth the veteran's minimum and he arguably outperformed it by playing a key role in the Lakers' run to this year's championship.
After returning from a broken thumb during the second round vs. Houston, the veteran guard averaged 8.9 PPG, 6.6 APG, 4.3 RPG, and 1.4 SPG in 16 games (24.7 MPG) off the bench. He even provided some reliable outside shooting, knocking down 40.0% of 3.1 three-point attempts per game during the postseason.
Assuming the salary cap remains at the same level in 2020/21 as in '19/20, Rondo's minimum salary would be about $2.56MM, so if he has to settle for another minimum deal, he'd miss out on the 5% raise that his option would have afforded him. But that difference is minimal and the opportunity for a more lucrative offer makes declining the option worth the risk.
The Lakers will hold Rondo's Early Bird rights, giving the team the ability to offer him a starting salary worth up to approximately $10MM (105% of the league-average salary in the previous season). However, contracts signed using the Early Bird exception must run for at least two years, without a second-year option. Los Angeles could potentially get around that rule by not fully guaranteeing the second year of an offer to Rondo.
Another potential path for the Lakers would be to re-sign Rondo using the Non-Bird exception. That would allow for a one-year deal (with or without a second-year option) and would give the 34-year-old veto rights on any trade, though his salary would be limited to about $3.08MM (120% of the minimum).
The Lakers will also have the mid-level and bi-annual exceptions available, but may prefer to use those exceptions to bring in outside help or to re-sign Non-Bird free agents Markieff Morris and/or Dwight Howard.
Of course, rival suitors could make life difficult for the Lakers by pursuing Rondo with mid-level type offers, but I imagine that – after winning a title with the team – the point guard's first choice will be to stick with L.A.
Rondo is one of five Lakers with player options for the 2020/21 season. Anthony Davis, Kentavious Caldwell-Pope, Avery Bradley, and JaVale McGee are all candidates to opt out in search of new deals as well.
Photo courtesy of USA Today Sports Images.