OCTOBER 22: The Pelicans have made it official, announcing in a press release that they've hired Van Gundy as their new head coach.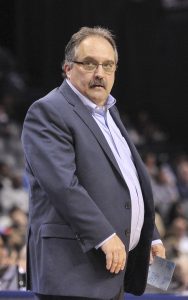 "This opportunity was one that I was really attracted to due in large part to David Griffin's record of putting together highly competitive, talented teams in a great family atmosphere," Van Gundy said in a statement. "When I got into the interview process and had a chance to meet with Mrs. (Gayle) Benson, Dennis Lauscha, Griff, Trajan Langdon, Swin Cash and the Pelicans front office, it became clear how committed and invested they are to winning.
[RELATED: Stan Van Gundy: "Deep Down, I'm Always A Coach"]
"Stan's track record of success as a head coach speaks for itself," Griffin said in a statement of his own. "His ability to teach while building genuine relationships was one of his many strengths that drew us to him. We feel like we are hiring one of the most accomplished leaders and authentic human beings in the NBA."
---
OCTOBER 21: Former NBA coach and current TNT analyst Stan Van Gundy has agreed to a deal that will make him the new head coach of the Pelicans, according to Adrian Wojnarowski and Andrew Lopez of ESPN. Van Gundy will sign a four-year contract with New Orleans, reports Shams Charania of The Athletic (Twitter link).
"I'm excited to join a talented New Orleans Pelicans team," Van Gundy wrote on Twitter. "It will be an honor to work with our players and to work for Mrs. (Gayle) Benson and David Griffin, Trajan Langdon, their staff and the great people of New Orleans. I can't wait to talk to our players and get the process started."
Van Gundy previously served as the head coach for the Heat, Magic, and Pistons, enjoying his most successful run in Orlando, where he led the Magic to a 259-135 (.657) record over five seasons and made the NBA Finals in 2009.
Van Gundy, who also had a winning record (112-73) in Miami, had a shakier experience in Detroit from 2014-18, compiling a 152-176 (.463) mark. However, he held a dual role with the Pistons, working as the team's president of basketball operations in addition to his head coaching duties. With David Griffin in place as the head of basketball operations in New Orleans, Van Gundy will be free to focus solely on coaching in his new position.
As the Pelicans' new head coach, Van Gundy will be tasked with developing a young core led by Zion Williamson, Brandon Ingram, and Lonzo Ball. Assuming New Orleans doesn't shake up its roster too drastically this fall, Van Gundy should also have veterans like Jrue Holiday and J.J. Redick in his lineup as he looks to lead the team back to the postseason for the first time since 2018.
The Pelicans, who dismissed Alvin Gentry following a disappointing showing at Walt Disney World in Orlando this summer, interviewed a total of nine candidates for their head coaching vacancy after gathering intel on several other candidates, tweets Will Guillory of The Athletic.
A report last week indicated that the Pelicans were narrowing their search to four finalists, including Van Gundy and Tyronn Lue, who was later promoted by the Clippers. The other finalists weren't identified, but SVG clearly stood out during the process, impressing Griffin, per Scott Kushner of The Times Picayune (Twitter link).
According to Guillory and Wojnarowski, Van Gundy's winning track record and his ability to teach a young roster helped sell the Pelicans on hiring him. His personnel decisions in Detroit weren't a factor the Pelicans considered, according to Wojnarowski, who adds that SVG's history of building top defensive teams was a factor in New Orleans' decision as well. Van Gundy's teams ranked in the top half of the league in all but one of his 11 full seasons as a head coach, per ESPN.
With Van Gundy headed to New Orleans, only two of the nine NBA teams that have parted ways with a head coach this year have yet to make a hire — the Thunder and the Rockets. Stan's brother Jeff Van Gundy is reportedly one of the leading candidates for the Houston job.
Photo courtesy of USA Today Sports Images.