OCTOBER 30: The Rockets have made it official, announcing in a press release that they've hired Silas as their new head coach. Team owner Tilman Fertitta referred to the opportunity as "well-earned and long overdue" for Silas.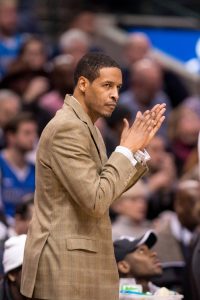 "The success Coach Silas had with Dallas last season reinforced the notion that he is more than ready to lead his own team," GM Rafael Stone said in a statement of his own. "The strengths of our core players are a great fit for Coach Silas' system and ideology and I'm looking forward to working with him to find ways we can continue to improve our roster."
OCTOBER 28: The Rockets and Mavericks assistant Stephen Silas are finalizing a deal that will make him the team's new head coach, reports ESPN's Adrian Wojnarowski (via Twitter). Silas had been one of three presumed finalists for the position, along with former NBA head coaches Jeff Van Gundy and John Lucas.
Van Gundy and Lucas were rumored to be the frontrunners to replace Mike D'Antoni in Houston at various points during the Rockets' head coaching search process, but the Rockets opted for a first-time head coach rather than a veteran with experience in the role.
Silas, the son of former NBA star and coach Paul Silas, was hired in 1999 as a scout by the franchise known at the time as the Charlotte Hornets and has since served as an assistant on a number of NBA coaching staffs. After spending four years as an assistant with Golden State from 2006-10 and eight years with the Bobcats/Hornets from 2010-18, he moved to Dallas in 2018, where he spent the last two years as a member of Rick Carlisle's staff.
Silas has received consideration for multiple head coaching jobs in recent years, having reportedly drawn interest from Indiana and Chicago this year in addition to Houston. According to Wojnarowski (via Twitter), the Rockets were impressed with Silas' "offensive ingenuity," as well as his pedigree as an assistant.
According to Jonathan Feigen of The Houston Chronicle (via Twitter), the Rockets moved "increasingly" over the weekend toward Silas. He had a Zoom call with many Houston players last night, which represented an important final step, since those players were all on board with the decision, a source tells Feigen.
As Woj points out, Silas will be tasked with coaching and running an offense for former MVPs Russell Westbrook and James Harden after having worked with a handful of other star guards during his career as an assistant, including Luka Doncic, Stephen Curry, and Kemba Walker. He'll also oversee a period of transition within the franchise — in addition to making a head coaching change, the Rockets have also undergone a major front office overhaul this fall, with longtime GM Daryl Morey leaving the organization.
The Rockets are expected to help Silas build an experienced coaching staff that includes at least two former head coaches, according to Feigen. The team has begun talks with Nate McMillan and Jeff Hornacek, and will likely make Lucas an offer to remain with the franchise, either as an assistant or in a new capacity, Feigen adds.
With Silas poised to become the Rockets' new coach, only one NBA team – the Thunder – has yet to finalize its head coaching search.
Photo courtesy of USA Today Sports Images.