Hoops Rumors is previewing the 2020 offseason for all 30 NBA teams. We're looking at the key questions facing each club, as well as the roster decisions they'll have to make this fall. Today, we're focusing on the Boston Celtics.

---
Salary Cap Outlook
At first glance, the Celtics' cap situation looks fairly comfortable, with about $95MM in guarantees committed to eight players.
However, that figure doesn't include Gordon Hayward's $34MM+ option or Daniel Theis' $5MM non-guaranteed salary. Enes Kanter is also a candidate to pick up his $5MM option, and Boston would add another $7-8MM to its books by using its three first-round picks. With all those costs taken into account, the Celtics' projected team salary jumps to $146MM+.
Boston could make some cost-cutting moves, including trading one or more of its three first-round picks. But this will be an expensive roster, and it seems like the Celtics will be limited to the taxpayer mid-level exception (worth $5.72MM).
Our full salary cap preview for the Celtics can be found right here.
---
Roster Decisions To Watch
Options:
Gordon Hayward, player option: $34,187,085
Enes Kanter, player option: $5,005,350
Semi Ojeleye, team option: $1,752,950

Note: Salary doesn't immediately become guaranteed if option is exercised.
Non-Guaranteed Contracts:
Two-Way Contracts:
Free Agents:
---
2020 Draft Assets
First Round:
No. 14 overall pick
No. 26 overall pick
No. 30 overall pick
Second Round:
After having held extra first-round picks for most of the last few years, the Celtics don't have any surplus first-rounders beyond 2020. But they do have a pair of first-rounders besides their own (No. 26) this year.
The Grizzlies' pick at No. 14 finally conveyed after being protected in the past — it was originally part of the deal that sent Jeff Green to Memphis in 2015. The Bucks' pick (No. 30), meanwhile, was initially sent to Phoenix in 2017's Eric Bledsoe swap. The Suns flipped it to Boston during last year's draft in order to land Aron Baynes and Ty Jerome.
In the second round, the Celtics traded away their own pick (No. 56) as part of last year's Terry Rozier/Kemba Walker sign-and-trade deal, so the Hornets have it now. But in that same trade, Boston acquired Brooklyn's second-rounder (No. 47) from Charlotte.
---
Three Key Offseason Questions
1. Will Gordon Hayward be back with the Celtics?

Hayward's contract with Boston includes a player option worth $34MM for the 2020/21 season, which means there are a number ways the offseason could play out for him.
If he opts into the final year of his contract, Hayward could simply return to the Celtics for another year before reaching free agency, he could be traded, or he could sign a longer-term extension with the team. If he opts out, he could sign outright with a new team, join a new team via sign-and-trade, or negotiate a new, longer-term deal with the C's.
For most of the year, it looked like a no-brainer that Hayward would exercise his player option. He has no chance of matching his $34MM salary for '20/21 on a new deal, and the list of teams with cap room will be extremely short. Opting to test the open market wouldn't seem to make much sense for the veteran forward.
However, there has been some recent chatter, instigated by ESPN's Zach Lowe and Bobby Marks, that Hayward's agent Mark Bartelstein is quietly surveying the landscape to see what might be out there for his client. During that ESPN podcast, Marks suggested there's a chance that Hayward and Bartelstein could go the Al Horford route. A year ago, Horford unexpectedly turned down a $30MM option with Boston and signed a four-year contract with Philadelphia that guaranteed him $97MM.
The opportunity to secure one last lucrative long-term deal was the right move for Horford, who was 33 years old when he reached free agency in 2019. Hayward is still just 30 and will probably be well positioned for a nice payday a year from now if he has a healthy, productive 2020/21 season, so there's less urgency for him to seek long-term security this year — especially with so few potential suitors with cap room out there.
It's also worth noting that when the Celtics let Horford go, it helped them accommodate the acquisition of Kemba Walker. If they'd matched Philadelphia's offer for Horford, landing Walker while staying under the tax apron would've been a challenge. This time around, there wouldn't be much of an upside to letting Hayward walk. It would help the C's avoid the tax, but wouldn't open up any extra cap room to sign a comparable replacement.
Taking those factors into account, I think Hayward is most likely to either pick up his option or sign a longer-term deal with Boston that reduces his 2020/21 cap charge. In either scenario, the Celtics could simply run it back with Hayward or explore their trade options (though they'd have to wait a few months if they sign him to a new free agent contract).
There's no shortage of teams looking for wings with size, but the Celtics already have a couple good young ones in Jayson Tatum and Jaylen Brown, making Hayward somewhat expendable. If they can figure out a trade that sends out Hayward for a player who addresses a more pressing need on the roster – perhaps in the frontcourt – it would make sense to explore that possibility.
If Boston's hypothetical trade partner is a team Hayward wouldn't mind committing to long-term, a sign-and-trade would be another option worth considering. However, that scenario would require plenty of pre-free-agency communication between the two teams and Hayward's camp to figure out the logistics.
2. What will the Celtics do with their three first-round draft picks?

The Celtics own the 14th, 26th, and 30th picks in what is considered a deep draft. If they were a rebuilding club, that would put them in a great position to add a couple potential long-term building blocks to their roster. But since Boston has title aspirations and a nearly-full roster, adding another three rookies to next year's squad isn't in the organization's best interests.
As a result, it's pretty safe to assume the Celtics won't keep all three of those picks, or at least won't use all of them on players for next year's roster. That gives them a few options.
Trading one or two of those picks for a future first-rounder is one path the Celtics could take. They did that a year ago, sending the Ty Jerome pick to Phoenix in a deal for the first-rounder that became this year's No. 30 selection.
Continuously rolling a pick over to the following draft is a good way to retain value and flexibility — if the Celtics want to fortify their roster at next year's trade deadline, having an extra first-rounder available for a veteran could come in handy. Plus, after holding extra first-round picks for most of the last several years, the Celtics only have their own first-rounders beyond 2020. Flipping one or two of this year's picks for future selections would help avoid having those coffers run dry.
Trading a pick or two in a deal for a veteran would be another option, but salary matching would be an issue in that scenario. The Celtics have no trade exceptions to take on salary.
Using a pick on a draft-and-stash player is one way to try to maximize the value of the pick without requiring a spot on next year's roster. That approach hasn't worked out especially well for Danny Ainge in recent years, but perhaps Serbian forward Aleksej Pokusevski (18th on ESPN's big board) would have more NBA success than Guerschon Yabusele and Ante Zizic did.
One of the most intriguing options for the Celtics – and one the team is reportedly exploring – would be to use all three picks in an attempt to move up in the draft to land an impact rookie who could contribute immediately and develop into a key future contributor.
Picks at or near the top of the draft are exponentially more valuable than those later on, so the Celtics shouldn't expect to move into the top five by dangling Nos. 14, 26, and 30. Still, there could be a deal to be had in the middle of the lottery.
The Pistons, for instance, could badly use an influx of young talent and may be open to moving down to No. 14 if they don't have a specific target in mind at No. 7 — and if they believe they can get good value with those two extra Boston picks at the end of the first round. It's not clear which player the Celtics would be targeting if they move into the top 10, but Onyeka Okongwu and Tyrese Haliburton are among the mid-lottery options who might be of interest.
3. What will Jayson Tatum's extension look like?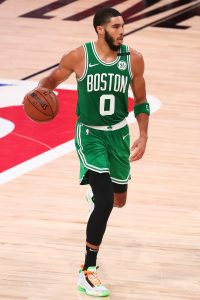 Tatum will become extension-eligible for the first time this offseason and there's no question he'll get a maximum-salary deal from the Celtics. But not all max deals are created equal. There are some details that the team will have to negotiate with Tatum's camp that could be important down the road.
For one, the length of the contract will be critical. Of the three maximum-salary rookie scale extensions signed a year ago, two were for five years, while Pascal Siakam's was for just four. It's safe to say the Celtics will push for five years without a fifth-year player option for Tatum, who would still just be 28 years old by the time a five-year extension expires in 2026.
The Rose Rule language in Tatum's deal will also be critical. As we outline in our glossary entry on the subject, the Rose Rule allows a player with fewer than seven years of NBA experience to qualify for a higher maximum salary (up to 30% of the cap, rather than 25%) if he meets certain criteria. Making an All-NBA team allows a player to qualify for that higher max, and teams and players are permitted to negotiate various starting salaries between 25-30% depending on which specific All-NBA team a player makes.
Siakam, Ben Simmons, and Jamal Murray all negotiated this language into their extensions a year ago. Siakam, for instance, will earn 28% of the cap in 2020/21 because he made the All-NBA Second Team — if he had only made the Third Team, his max salary would've been worth 25% of the cap. Simmons, who had more player-friendly Rose Rule language in his deal, will also get a 28% max salary after making the Third Team. Murray wasn't an All-NBA player, but could theoretically have earned up to a 30% max if he'd made the First Team.
Tatum is coming off an All-NBA Third Team nod of his own, and had a strong case for a Second Team spot. Will the Celtics be willing to give him a 30% max if he makes any All-NBA team again in 2021, or would they require a First Team spot to go that high?
While the difference may appear marginal on the surface, that extra money adds up over the course of a five-year deal. Based on a $115MM cap, a player who starts at 30% of the cap would earn about $33MM more over five years than a player starting at 25%.
With big-money long-term deals for Walker and Brown already on the books, the Celtics could also end up as a repeat taxpayer down the road, so if they're able to save a little money on Tatum's contract while still technically giving him a "max" deal, they might welcome that opportunity.
There's little doubt that the Celtics and Tatum will hammer out an extension this fall, but if it doesn't get done immediately when the new league year begins, it's likely because the two sides are haggling over these under-the-radar details.
Information from Basketball Insiders and ESPN was used in the creation of this post. Photos courtesy of USA Today Sports Images.