Hoops Rumors is previewing the 2020 offseason for all 30 NBA teams. We're looking at the key questions facing each club, as well as the roster decisions they'll have to make this fall. Today, we're focusing on the Miami Heat.

---
Salary Cap Outlook
The Heat's six guaranteed contracts, Kelly Olynyk's player option, non-guaranteed salaries for Kendrick Nunn and Duncan Robinson, and the cap hold for their first-round pick add up to approximately $86MM. That means the team could theoretically open up about $22MM in cap room.
However, there are a number of free agents Miami may try to re-sign, starting with Goran Dragic and Jae Crowder. Unless all those free agents walk, the Heat will likely operate as an over-the-cap team, with the full mid-level exception ($9.26MM) and bi-annual exception ($3.62MM) available. That will allow the club to retain its lone trade exception, worth about $7.5MM.
Our full salary cap preview for the Heat can be found right here.
---
Roster Decisions To Watch
Options:
Kelly Olynyk, player option: $13,198,243
Non-Guaranteed Contracts:
Kendrick Nunn ($1,663,861)
Duncan Robinson ($1,663,861)
Two-Way Contracts:
Free Agents:
---
2020 Draft Assets
First Round:
Second Round:
The Heat still have their own first-round pick, but traded their second-rounder to the Celtics way back in 2015 in a deal that also sent Zoran Dragic to Boston. That pick (No. 50) changed hands many times over the years and ultimately landed with the Hawks as a result of their Dewayne Dedmon/Alex Len/Jabari Parker swap with Sacramento at last season's trade deadline.
---
Three Key Offseason Questions
1. Will Goran Dragic, Jae Crowder, and the Heat's other free agents be back?

Nearly half of the Heat's 15-man roster is eligible for free agency this offseason, and while not all of those players need to be re-signed (Miami likely won't push too hard for a new deal with Solomon Hill, for instance), a majority of them were key contributors at some point during the 2019/20 season. Dragic and Crowder are the two most important veterans in that group.
Dragic had a strong bounce-back season after an injury-plagued 2018/19, averaging 16.2 PPG and 5.1 APG on .441/.367/.776 shooting and taking over starting point guard duties from Kendrick Nunn in the postseason before going down with a foot injury. Crowder, meanwhile, emerged as one of the Heat's most reliable contributors on the wing after being acquired in February, averaging 11.9 PPG with a .445 3PT% in 20 regular season games and taking on a number of big defensive assignments in the postseason.
Re-signing both players will be a priority, but the Heat are also prioritizing cap flexibility for the 2021 offseason, when they'd like to make a run at Giannis Antetokounmpo or another star free agent. As such, the club will be reluctant to extend many – or perhaps any – multiyear contract offers this fall.
That might be okay with Dragic. At age 34, the veteran point guard is unlikely to receive strong multiyear offers from other suitors, and the Heat are in position to pay him a substantial amount on a one-year contract, perhaps even matching his $19MM salary from this past year. Even if Dragic gets two- or three-year offers in the mid-level range from other clubs, it probably makes more sense for him to accept a big one-year offer from Miami, then return to the free agent market in 2021.
Crowder may be a little trickier to retain. A strong defender who has the size and versatility to match up with opposing scorers, Crowder can also knock down outside shots pretty consistently, making him an easy fit in any system — and he's four years younger than Dragic. It wouldn't be a surprise if he gets three- or four-year offers from other playoff teams this fall.
The Heat could put a big one-year deal on the table for Crowder, but it might be hard for him to pass up long-term security if he gets an offer in, say, the four-year, $40MM range. Crowder's free agency will depend in large part on what kind of offers are out there for him and whether those longer-term deals are lucrative enough to turn down a shorter-term commitment from Miami. I think he's a little less likely to return to the Heat than Dragic is.
Of the Heat's other free agents, it's safe to say Udonis Haslem will be back on the team's bench next season — at some point, he'll probably do so in a coaching role, but as long as he wants to keep playing, a minimum-salary deal should be available for him in Miami.
Derrick Jones and Meyers Leonard played regular minutes for the Heat during the regular season, but saw their playing time dry up in the playoffs. Jones is still just 23 years old and may want an opportunity to spread his wings in a new situation, while Leonard has talked about wanting to play 20-25 minutes for whichever team signs him.
If they aren't convinced there will be enough playing time to go around in Miami – and aren't interested in signing for just one year – I wouldn't expect them to be back. Jones, in particular, seems like a candidate to get a multiyear offer from a retooling team bullish on his youth and upside.
2. Will the Heat sign Bam Adebayo to a maximum-salary extension this offseason?

Avoiding multiyear free agent commitments this fall will be one way for the Heat to keep their cap as clean as possible for the 2021 offseason. Adebayo's contract situation is another crucial wild card.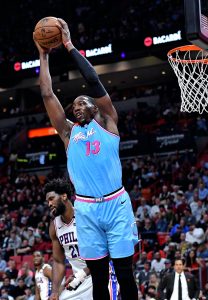 Coming off an impressive breakout season, Adebayo will be eligible later this month to sign a rookie scale extension which goes into effect in 2021/22. For players like Adebayo, who have already earned an All-Star nod and are likely to continue improving, a maximum-salary extension is virtually automatic. Teams prefer to get that business done as soon as they can, keeping their young stars happy and avoiding the possibility of an offer sheet in restricted free agency, so negotiations are usually quick and painless.
However, extending Adebayo early would significant eat into Miami's projected cap room for the 2021 offseason. If we estimate a $112MM salary cap for '21/22, a max-salary extension for Adebayo would start at $28MM (or more, if he meets Rose Rule criteria).
If Adebayo doesn't sign an extension and instead reaches restricted free agency next summer, his temporary cap hold would be just $15.35MM. That means the Heat would have upwards of $13MM in additional cap room available. Once they use that space, they could go over the cap to re-sign Adebayo to a new contract that would be identical to the extension he could sign this offseason.
In theory, the Heat should have no problem convincing Adebayo to wait to sign his new deal. As long as the team plans to put the same offer on the table next year, he won't lose a dollar by waiting. And his cooperation could clear a path for Miami to acquire a star teammate to play alongside him for the next few years, turning the club into a perennial title contender.
Still, a $150MM+ payday isn't the sort of thing most players are particularly eager to wait on, especially if they've only earned a very small fraction of that amount so far in their professional careers. Adebayo may understand the Heat's thinking, but that doesn't mean he'll be comfortable passing on life-changing money and risking the possibility of a career-threatening injury over the next eight months.
It's a tough spot to put Adebayo in, and if he insists on being paid sooner rather than later, I don't think the Heat will put up too much of a fight. Keeping their current stars happy is more of a priority than maintaining flexibility for new ones.
Plus, even if Adebayo's new deal cuts into Miami's cap room and prevents the club from opening up enough space for a maximum salary in 2021, that doesn't mean signing a star is off the table. As we saw a year ago, when the Heat acquired Jimmy Butler in a sign-and-trade without having any cap space available, the front office is capable of getting creative and making it work if an All-Star really wants to come to South Beach.
3. Could the Heat go star hunting this year rather than waiting until 2021?

Given how many of the Heat's offseason moves hinge on retaining cap flexibility in 2021, it's fair to wonder if it makes sense for the team to pursue a star player now rather than waiting for another year. Miami won't have max cap room this fall and the free agent market isn't exactly loaded, but the trade market is an avenue the club could explore. And securing another impact player now would free up the organization to extend Adebayo and make more aggressive offers to free agents like Crowder.
The problem with that approach is that there's virtually no chance the Bucks will consider trading Antetokounmpo, the Heat's top target. Even if he doesn't sign an extension, the only way Milwaukee would become inclined to move him is if he asks out, and I don't see that happening.
As long as landing Giannis in free agency in 2021 remains possible, the Heat won't want to give up on that chance. Still, there are potential trade candidates who may be free agents in '21 themselves, which could appeal to Miami.
If, for instance, the Heat could pry Victor Oladipo away from the Pacers for a reasonable return, they'd be in position to re-sign him in 2021 if Giannis isn't available. And if Antetokounmpo is in play in a year, Oladipo's expiring contract wouldn't get in the way of Miami's pursuit.
On the other hand, if Antetokounmpo re-ups with the Bucks this fall, the Heat would have more flexibility to aggressively pursue a star on the trade market without worrying as much about their 2021 cap situation or the length of their trade target's contract.
In that scenario, Jrue Holiday and especially Bradley Beal would likely be among Miami's top targets. Holiday appears to be far more available than Beal, but I imagine the Heat would be willing to give up a more substantial haul for the Wizards' star — Tyler Herro may be on the table for Beal, whereas I don't think Miami would put him in an offer for Holiday.
Unlike other teams that have to rely primarily on the trade market to add impact players, the Heat can afford to wait until free agency to make a play for a star, knowing that Miami is among the league's most desirable destinations. With that in mind, I'd be surprised if the Heat are overly aggressive on the trade market in the next few weeks, especially as long as Antetokounmpo remains on track to become a free agent in 2021.
Information from Basketball Insiders and ESPN was used in the creation of this post. Photos courtesy of USA Today Sports Images.