Cavaliers center Andre Drummond will pick up his player option for 2020/21 to remain with the team rather than becoming a free agent, reports Marc Stein of The New York Times (via Twitter).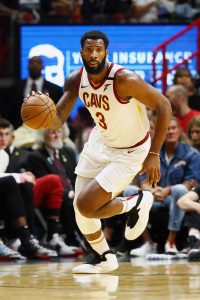 By exercising that option, Drummond will lock in his $28,751,774 salary for next season, a figure he was extremely unlikely to match or exceed on the open market. His deal will now expire in 2021, at which point he'll become an unrestricted free agent. The opt-in also ensures the Cavs will operate as an over-the-cap team this fall, barring a major cost-cutting move.
Drummond, 27, was his usual reliable self in 2019/20, averaging 17.7 PPG to go along with a league-high 15.2 RPG in 57 games (33.0 MPG). It was the third consecutive season – and fourth in the last five – that he has led the NBA in rebounding. The big man also filled up the box score with 2.7 APG, 1.9 SPG, and 1.6 BPG.
Having spent the first seven-and-a-half years of his professional career in Detroit, Drummond was traded to Cleveland at last season's deadline by the Pistons, who had shifted to rebuilding mode and wanted to open up cap space for this offseason. The expectation at the time of the trade was that Drummond would be opting in.
The Cavs had hoped to get a longer look down the stretch at how their frontcourt – which also features Kevin Love, Tristan Thompson, and Larry Nance Jr. – meshed, but Drummond only appeared in eight games before the season went on hiatus as a result of the coronavirus pandemic. It remains to be seen how many of those big men will be back in Cleveland this season, as Thompson is a free agent and Drummond, Love, and Nance are all potential trade candidates.
For now though, it's safe to assume Drummond will start the season as the Cavs' starting center.
Photo courtesy of USA Today Sports Images.