NOVEMBER 22: The Grizzlies have officially announced their new deal with Melton, confirming the move in a press release.
---
NOVEMBER 21: The Grizzlies have agreed to re-sign free agent guard De'Anthony Melton to a four-year contract, according to Shams Charania of The Athletic, who reports (via Twitter) that the deal will be worth $35MM. Melton had been a restricted free agent.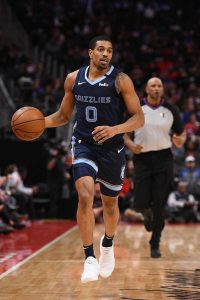 The 22-year-old's modest box-score numbers – 7.6 PPG, 3.7 RPG, and 2.9 APG – understated his impact in Memphis during the 2019/20 season. He was perhaps the Grizzlies' best perimeter defender and the team had a +5.1 net rating when he played, compared to a -4.0 mark when he was on the bench.
The 46th overall pick in the 2020 draft, Melton earned the minimum salary for the first two years of his NBA career, but will now have a 2020/21 salary comparable to that of Deandre Ayton and Marvin Bagley, the top picks in his draft class, notes Charania (via Twitter). Charania says Melton will earn $9.6MM in year one, suggesting the deal has a declining structure.
The Grizzlies held Early Bird rights on Melton and will be able to re-sign him using those rights, so the deal won't affect the team's mid-level exception, which remains available. Melton, meanwhile, will join Ja Morant, Brandon Clarke, and Dillon Brooks as the only Grizzlies players under contract beyond 2022.
Melton had been the 20th overall player on our list of 2020's top 50 free agents.
Photo courtesy of USA Today Sports Images.