NOVEMBER 24, 7:05pm: The Kings are still discussing whether to match Atlanta's offer sheet but are leaning strongly towards not matching, Amick tweets.
---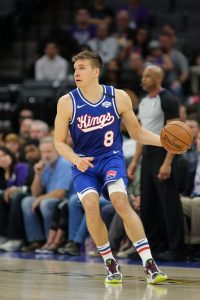 NOVEMBER 22, 12:11pm: The Hawks have sent Bogdanovic's signed offer sheet to the Kings, who will now have until Tuesday night to decide whether or not to match it, reports Amick (Twitter link).
The deal includes a fourth-year player option and a 15% trade kicker, tweets Marc Stein of The New York Times. That trade kicker is structured so that the team trading away Bogdanovic while he's on this contract would have to pay the bonus, Stein adds (via Twitter).
---
NOVEMBER 22, 11:17am: The Hawks are submitting an offer sheet for Kings restricted free agent swingman Bogdan Bogdanovic, according to Sam Amick of The Athletic (Twitter link). Emiliano Carchia of Sportando first reported on Friday that Atlanta was expected to sign Bogdanovic to an offer sheet.
The deal will be worth $72MM over four years, according to Chris Kirschner of The Athletic (Twitter link). That's the exact price we'd heard connected to Bogdanovic for the last several days.
Once Bogdanovic officially signs the offer sheet, the Kings will have two days to make a decision on whether or not to match it. As Amick notes (via Twitter), the Hawks likely wouldn't be prepared to move forward on the offer sheet unless they felt pretty confident about its chances of not being matched.
Earlier this week, it appeared that Bogdanovic would join the Bucks in a sign-and-trade agreement that packaged him and Justin James to Milwaukee for Donte DiVincenzo, D.J. Wilson, and Ersan Ilyasova. However, a couple days after it was first reported, that deal fell apart amid rumors that Bogdanovic himself hadn't agree to sign with Milwaukee.
Since word of the deal broke several days before free agency opened, there was speculation that the NBA may have intervened due to perceived tampering and/or circumvention. That hasn't been confirmed at all, though the league did open an investigation into the situation.
The Bucks ultimately moved on from their pursuit of Bogdanovic, opening the door for the Hawks – one of the few teams with significant cap room – to make a run at him. Atlanta has already had a successful free agency period, having struck deals with Danilo Gallinari, Rajon Rondo, and Kris Dunn. If they can land Bogdanovic, it would represent another upgrade on a core that already features Trae Young, John Collins, and Clint Capela.
While there's still a chance the Kings could match the Hawks' offer so as not to lose a key asset for nothing, the team may have tipped its hand when its reported agreement with the Bucks broke. That deal was a signal that Sacramento wasn't necessarily intent on retaining the RFA swingman, who would add another expensive multiyear contract to a cap sheet that already features pricey long-term deals for Harrison Barnes, Buddy Hield, and – starting in 2021/22 – De'Aaron Fox.
After their deal with the Bucks was scuttled, the Kings reportedly explored other sign-and-trade scenarios involving Bogdanovic, with the Lakers and Pacers among the teams believed to have interest. However, any deal would've come with cap- and compensation-related challenges, whereas Atlanta had the flexibility to simply sign Bogdanovic outright to an offer sheet.
Photo courtesy of USA Today Sports Images.