UPDATE: This deal has fallen apart. Read the details here.
---
The Bucks will acquire restricted free agent swingman Bogdan Bogdanovic from the Kings in a sign-and-trade deal once free agency opens, according to Adrian Wojnarowski of ESPN (Twitter link).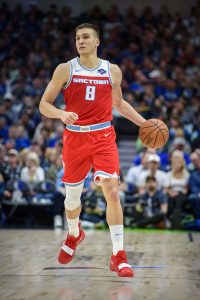 Sources tell Wojnarowski that Milwaukee will send Donte DiVincenzo, D.J. Wilson, and Ersan Ilyasova to Sacramento in the deal, while the Bucks will also receive forward Justin James from the Kings (Twitter links).
Multiple reports in recent weeks indicated that the Bucks had interest in Bogdanovic and would pursue him in a sign-and-trade scenario. Kevin O'Connor of The Ringer reiterated that interest tonight in the wake of Milwaukee's agreement to acquire Jrue Holiday, tweeting that Bogdanovic was also being eyed by the Hawks.
Still, even in the wake of O'Connor's report, we didn't expect to learn so early in the week that the Kings and Bucks have already reached an agreement. Since Bogdanovic will technically be a free agent, he and Milwaukee aren't supposed to have any contact until Friday, so the NBA likely won't be thrilled that news of this deal has already leaked.
Bogdanovic enjoyed arguably the best season of his three-year NBA career in 2019/20, averaging 15.1 PPG, 3.4 RPG, and 3.4 APG on .440/.372/.741 shooting in 61 contests (29.0 MPG). He earned a promotion to the starting lineup in January, displacing Buddy Hield, and helped lead the Kings to a 16-12 record during his 28 games as a starter.
Re-signing Bogdanovic was believed to be a priority for the Kings, so it's a little surprising that the team is prepared to move him in a sign-and-trade deal. However, former general manager Vlade Divac seemed more committed to the 28-year-old Serbian than new GM Monte McNair.
The Kings' willingness to move on from Bogdanovic is good news for the Bucks, who have reshaped their lineup with this move and the acquisition of Holiday, putting themselves in a great position to sell Giannis Antetokounmpo on signing a five-year, super-max contract extension this fall.
As for the Kings, they're likely not viewing Ilyasova's expiring $7MM contract as a major asset, and Wilson is coming off a disappointing third season. DiVincenzo is the headliner of their package, having averaged 9.2 PPG and 4.8 RPG on .455/.336/.733 in 66 games (23.0 MPG) last year for Milwaukee. He's a strong perimeter defender who – at age 23 – still has plenty of room to improve and is under contract for two more years before reaching restricted free agency.
It's not yet clear what Bogdanovic's new contract with the Bucks will look like, but the deal must span at least three seasons, with a guaranteed first year. Based on Milwaukee's outgoing salary, he could receive a starting salary of up to approximately $18MM, assuming Ilyasova's salary becomes guaranteed. However, the Bucks will have to be conscious of the hard cap — as a result of acquiring a player via sign-and-trade, they'll be unable to surpass a team salary of $138,928,000 in 2020/21.
The base year compensation rule will also apply to Bogdanovic's new deal and will complicate salary-matching to some extent, though the inclusion of James should prevent it from becoming an issue for Sacramento.
Photo courtesy of USA Today Sports Images.