11:26pm: The Hawks have issued a press release officially announcing the addition of Bogdanovic.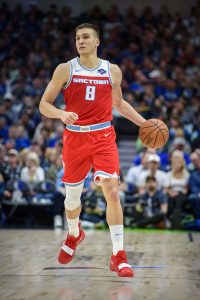 "Bogdan has a great feel for the game, and we expect him to be a great fit for us with his high-level offensive skill set, experience and toughness," team president of basketball operations Travis Schlenk said in a statement. "It's no secret that one of our biggest areas of focus in free agency was adding shooting and quality depth. With Bogdan as part of our incoming group, we feel those are now areas of strength."
---
8:03pm: The Kings have elected not to match Atlanta's four-year, $72MM offer sheet for restricted free agent swingman Bogdan Bogdanovic, clearing the way for him to join the Hawks, reports ESPN's Adrian Wojnarowski (via Twitter).
Bogdanovic enjoyed arguably the best season of his three-year NBA career in 2019/20, averaging 15.1 PPG, 3.4 RPG, and 3.4 APG on .440/.372/.741 shooting in 61 contests (29.0 MPG). He earned a promotion to the starting lineup in January, displacing Buddy Hield, and helped lead the Kings to a 16-12 record during his 28 games as a starter.
While the Kings' roster moves at last season's trade deadline – which included dumping some 2020/21 salary – indicated they were prepared to retain Bogdanovic in restricted free agency, the team underwent a front office overhaul after the season, with Monte McNair replacing Vlade Divac as Sacramento's general manager.
According to Wojnarowski (via Twitter), the new front office, led by McNair, "labored" over whether or not to match Bogdanovic's four-year offer from the Hawks, which includes a fourth-year option and a 15% trade kicker. Ultimately, Woj says, the Kings prioritized retaining roster flexibility and felt that bringing back Bogdanovic would hinder their ability to continue building around cornerstones De'Aaron Fox, Marvin Bagley, and Hield.
Wojnarowski says (via Twitter) that the Tyrese Haliburton pick in last week's draft was a factor in Sacramento's decision too, since the No. 12 pick gives the franchise another long-term building block in the backcourt.
The Kings also had the Hield/Bogdanovic dynamic to consider. Hield, who is just starting a lucrative four-year extension himself, didn't appear thrilled to be moved to the bench last season, and Bogdanovic was believed to be seeking a change of scenery, having reportedly felt that he had been "de-prioritized" in recent months by the Kings. Bringing back both players may not have been great for team chemistry.
Still, it's somewhat surprising that the Kings are letting a talented young player walk for nothing. They had hoped to salvage some value in a sign-and-trade, having initially reached an agreement with the Bucks last week that would have sent Bogdanovic and Justin James to Milwaukee for Donte DiVincenzo, D.J. Wilson, and Ersan Ilyasova. However, a couple days after it was first reported, that deal fell apart amid rumors that Bogdanovic himself hadn't agree to sign with Milwaukee.
Since word of the agreement broke several days before free agency opened, there was speculation that the NBA may have intervened due to perceived tampering and/or circumvention. That hasn't been confirmed at all, though the league did open an investigation into the situation. In any case, the Kings moved onto other sign-and-trade possibilities when free agency opened on Friday, but the Hawks had the cap room necessary to sign Bogdanovic without requiring Sacramento's cooperation.
The Kings' loss will be the Hawks' gain, as an eventful week in Atlanta continues with the addition of the 28-year-old Serbian. We heard last month that the Hawks – who entered the offseason with the most cap space in the NBA – intended to be aggressive this fall, since they badly want to make it back to the playoffs next season. They've delivered on that promise.
After drafting USC center Onyeka Okongwu with the No. 6 pick in last Wednesday's draft, the Hawks reached free agent agreements with Danilo Gallinari, Kris Dunn, Rajon Rondo, and Solomon Hill. Now they'll add Bogdanovic to that group.
[RELATED: 2020 NBA Free Agent Tracker]
Atlanta's new additions will join a core headed by Trae Young and John Collins, along with promising youngsters Cam Reddish, De'Andre Hunter, and Kevin Huerter. Clint Capela will also be joining the mix — the former Rockets center was acquired at last season's deadline but has yet to appear in a game for the Hawks due to a foot injury.
With Bogdanovic now officially off the board, there are only four restricted free agents who have yet to secure new deals, and all four are two-way players. There are also only three players on our list of top 50 free agents who have yet to strike deals — and one of those three, Anthony Davis, is a lock to return to his current team. The other two are Hassan Whiteside (No. 17), who has reportedly received interest from the Kings, and Reggie Jackson (No. 50).
Photo courtesy of USA Today Sports Images.