3:43pm: The Celtics' new trade exception will actually be worth $28.5MM, Marks clarifies (via Twitter).
---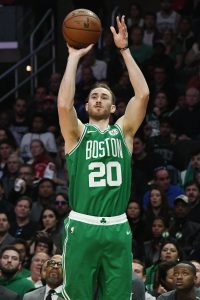 2:42pm: The Hornets have completed their acquisition of Gordon Hayward, having officially added the veteran free agent forward via a sign-and-trade deal with the Celtics.
According to the Celtics (via Twitter), Boston are sending a pair of future second-round picks to Charlotte in the deal along with Hayward. Those will be 2023 and 2024 second-rounders, according to Shams Charania of The Athletic (Twitter link).
As part of the trade, the Celtics will creative a massive trade exception worth the amount of Hayward's 2020/21 salary ($27.9MM, per ESPN's Bobby Marks). Boston will also receive a future second-round pick from the Hornets, though that pick will be heavily protected and is unlikely to change hands, tweets Rick Bonnell of The Charlotte Observer. It'll be a 2022 second-rounder, Charania adds.
Hayward's agreement with the Hornets on a four-year, $120MM contract was first reported on November 21 after an eventful free agency that saw the 30-year-old draw significant interest from Indiana and New York as well.
By waiving and stretching Nicolas Batum's $27MM expiring salary, the Hornets created more than enough cap room to sign Hayward outright. However, the opportunity to create a massive trade exception that can be used at the trade deadline or during the 2021 offseason incentivized the Celtics to explore a sign-and-trade deal.
That $27.9MM trade exception – which is the largest in NBA history, per Marks – can be used to acquire one or more players earning up to that amount without having to send out any salary, giving Boston an intriguing weapon on the trade market over the next 12 months. Danny Ainge and the Celtics' front office determined that exception was valuable enough to give up two second-round picks.
[RELATED: Hoops Rumors Glossary: Traded Player Exception]
From the Hornets' perspective, the only downside of agreeing to a sign-and-trade instead of signing Hayward outright – besides helping out the Celtics – was hard-capping themselves for the 2020/21 league year. However, Charlotte remains well below the $109MM cap, so it's safe to say the $139MM hard cap won't be an issue. So essentially, the Hornets picked up a pair of extra second-rounders for a move they were making anyway.
For more info on Hayward's deal, check out our original story on his agreement with the Hornets.
Photo courtesy of USA Today Sports Images.