DECEMBER 3: The Nuggets have officially re-signed Millsap, the team announced today in a press release. All of Denver's reported offseason moves have now been finalized.
---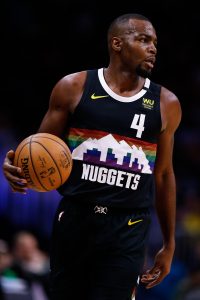 NOVEMBER 21: The Nuggets lost Jerami Grant and Mason Plumlee on the first day of free agency, but they're bringing back their other key frontcourt free agent. Denver has agreed to re-sign Paul Millsap to a one-year contract worth $10MM+, agent DeAngelo Simmons tells Shams Charania of The Athletic (via Twitter).
Millsap, 35, played fewer minutes per game (24.3) in 2019/20 than he had in any season since 2007/08, but he remained highly effective in those minutes. He averaged 11.6 PPG, 5.7 RPG, and 1.6 APG with a solid shooting line of .482/.435/.816 in 51 games (48 starts).
Since arriving in Denver in 2017, Millsap has helped stabilize the team's defense alongside Nikola Jokic in the frontcourt. With Plumlee and Grant departing in free agency, Millsap will share time up front in 2020/21 with the newly-added JaMychal Green, with youngsters like Michael Porter and Bol Bol expected to take on larger roles too.
Millsap received interest from "over half of the league" as a free agent, according to Charania (via Twitter). Earlier today, the Celtics were cited as a strong contender for the big man. However, Adam Himmelsbach of The Boston Globe (Twitter link) hears that personal reasons played a major part in Millsap's decision — he didn't want to uproot his family from Denver.
Nuggets president of basketball operations Tim Connelly said back in September that he'd "love to see" Millsap spend the rest of his career in Denver. While this contract won't guarantee that, it's a good first step.
Photo courtesy of USA Today Sports Images.