NOVEMBER 24: Now that the trade sending him to New Orleans has been completed, the Pelicans have officially announced their extension agreement with Adams.
---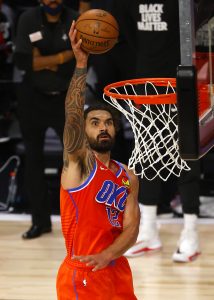 NOVEMBER 23: As part of the trade that will send center Steven Adams from Oklahoma City to New Orleans, the Pelicans are signing Adams to a two-year contract extension worth $35MM, sources tell Zach Lowe and Adrian Wojnarowski of ESPN (Twitter links). The deal, which will run through 2022/23, will be fully guaranteed, per the ESPN duo.
Teams are permitted to extend players as part of trades, though those deals are limited to three total years, including the ones remaining on the player's current contract. Since Adams is on an expiring contract, the Pelicans are able to tack on two new years. Worth $17.5MM annually, the extension will represent a dip from the big man's current $27.5MM salary.
As we relayed earlier tonight, the Pelicans reportedly pursued Adams during the 2019 offseason. Their willingness to surrender a first-round pick for him and sign him to an extension are two more signs that he's a player they value significantly.
In 2019/20, Adams averaged 10.9 PPG, 9.3 RPG, and 2.3 APG in 63 games (26.7 MPG) as Oklahoma City's starting center, helping to anchor the team's defense. He'll presumably take on a similar role in New Orleans, playing alongside Zion Williamson in the Pelicans' starting five.
Adams is now on track to reach unrestricted free agency at age 30 in 2023.
Photo courtesy of USA Today Sports Images.