The Pelicans, Thunder, Bucks, and Nuggets have officially completed the four-team trade that will send Jrue Holiday to Milwaukee and Steven Adams to New Orleans, the Pelicans announced today in a press release.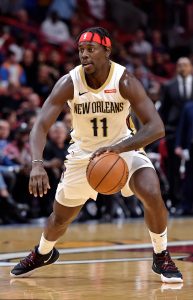 In total, the mega-deal involves 10 players, five draft picks, and two future pick swaps. The trade breaks down as follows:
The deal began when the Bucks and Pelicans reached an agreement on a trade sending Holiday to Milwaukee last week. From there, the Thunder got involved when New Orleans agreed to flip Hill to Oklahoma City in a trade for Adams.
A draft-night deal between the Nuggets and Pelicans that involved the Nuggets' 2023 first-rounder and the Bucks' No. 24 pick (sent to New Orleans as part of the original Holiday agreement) was folded in to make it a four-team trade when the Pels agreed to flip Denver's '23 pick to OKC as part of the Adams package.
As cap expert Albert Nahmad has pointed out (via Twitter), it's an intricate, complex transaction that had to make use of a slew of CBA rules. The Pelicans, who are signing Adams to a two-year extension as part of the trade, needed to sign-and-trade Williams, Gray, and Cheatham to Oklahoma City and guarantee most or all of Miller's $7MM salary in order to abide by salary-matching rules.
Meanwhile, Adams gets a trade bonus worth a little over $2MM as part of the deal, while the Thunder create the largest trade exception in NBA history, worth $27.5MM, per ESPN's Bobby Marks (Twitter link).
Unfortunately, as Nahmad observes (via Twitter), Oklahoma City will likely have to use that massive TPE immediately to accommodate the acquisition of Al Horford. Still, as John Hollinger of The Athletic writes, the Thunder should come out of their series of transactions with a handful of usable trade exceptions, including one worth $15.4MM.
A full breakdown of this offseason's trades – including the ones not yet made official – can be found right here.
Photo courtesy of USA Today Sports Images.