4:45pm: The buyout agreement is official, according to a team press release.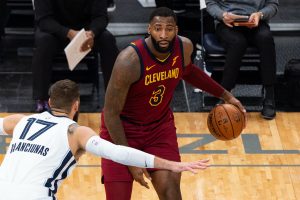 "I want to thank Andre for his contributions to our team both on and off the court, and for his professionalism and mutual cooperation as we navigated through this process with him and his representation," GM Koby Altman said. "We have great respect for Andre as a person and a player here in Cleveland and we are happy to have reached an outcome that is in the best interest of both Andre and our team."
---
12:53pm: The Cavaliers have reached a buyout agreement with center Andre Drummond, reports Chris Fedor of Cleveland.com (Twitter link). Drummond will be free to sign with any team once he officially clears waivers.
The move was expected, with reports on Thursday indicating that the Cavs were negotiating a buyout with Drummond after failing to find a favorable trade at the deadline.
Drummond, 27, is averaging a double-double for the eight consecutive season in 2020/21, with 17.5 PPG and 13.5 RPG in 25 games (28.9 MPG) for Cleveland. However, he wasn't in the Cavs' long-term plans, so the team pulled him out of its rotation in February to create more minutes for new center Jarrett Allen and to resolve his situation.
Drummond's $28.75MM expiring salary made it impossible for the club to recoup anything of real value on the trade market. However, he could be as available on the free agent market for as little as the veteran's minimum. Money will be one of the factors Drummond must consider as he weighs which team to join next, since some of his suitors – including the Lakers – will be limited to offering the prorated minimum, while others – like the Knicks – could go much higher.
His potential role and the opportunity to compete for a championship are other factors that Drummond will have to consider as he explores his options. Besides the Lakers and Knicks, the big man is expected to talk to the Clippers, Celtics, Hornets, and possibly the Nets.
Executives around the league reportedly view the Lakers as the frontrunners for Drummond.
Photo courtesy of USA Today Sports Images.