12:27am: The Fournier trade is now official, according to an announcement from the Magic (via Twitter).
---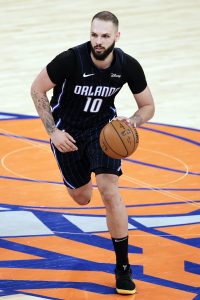 9:07pm: The draft picks headed to Orlando in the trade are the Celtics' own 2027 second-rounder and whichever pick is the least favorable of the Celtics' and Grizzlies' 2025 second-rounders, reports Adam Himmelsbach of The Boston Globe (Twitter link).
---
2:36pm: The Celtics will also send Jeff Teague to Orlando in their trade for Fournier, according to Josh Robbins and Jared Weiss of The Athletic (Twitter link).
Since Teague is on a minimum-salary contract, the value of the Magic's $17MM+ trade exception generated by moving Fournier will remain the same.
Teague has been told he doesn't have to report to Orlando and will be released by the Magic, Robbins adds.
---
10:34am: The Celtics are finalizing a deal to land shooting guard Evan Fournier from the Magic in exchange for two second-round picks, tweets ESPN's Adrian Wojnarowski.
Since it appears Boston isn't sending any sizeable salaries to Orlando in return, the Celtics will use part of their $28.6MM trade exception to take on Fournier's expiring contract.
Fournier carries a $17.15MM cap hit that will be adjusted to $17.45MM once the deal is complete, tweets Bobby Marks of ESPN. The increase involves bonuses, as Fournier has incentives for reaching the second round of the playoffs and the conference finals, which are both now considered likely since the Celtics did so last season.
Boston doesn't have a roster opening, so another move will be necessary before the trade can be finalized. Marks adds that the deal puts the Celtics $1.6MM over the luxury tax, so Boston could include a low-priced contract in the trade to address both issues.
The Magic would create a $17.15MM trade exception if they're not acquiring any players in the deal (or if they only take on a minimum-salary contract).
Fournier, 28, is in his ninth NBA season and his seventh with the Magic. He's averaging a career-best 19.7 points per game and shooting 38.8% from three-point range in advance of unrestricted free agency.
The Celtics were previously said to be in serious contention to land Aaron Gordon from Orlando in addition to Fournier, but Gordon is reportedly headed to Denver.
Photo courtesy of USA Today Sports Images.