8:34pm: The exchange of Williams and Rondo is now official, per press releases from the Clippers and Hawks.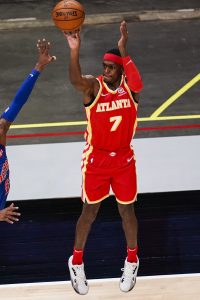 "Being able to acquire a respected veteran in Lou Williams, one of the best scorers and playmakers off the bench in league history, and two second-round picks accomplished a couple of the goals we had," Hawks team president Travis Schlenk said in a statement.
"We could not be more excited to welcome Rajon to the Clippers," Clippers team president Lawrence Frank said. "He is a proven winner, a relentless competitor, and one of the most skilled orchestrators of his era. We believe he will elevate our group and continue to propel us forward."
The Clippers clarified in their announcement that the 2023 second-rounder headed to Atlanta in the deal is Portland's pick.
---
1:32pm: The Hawks and Clippers have reached an agreement to swap Williams and Rondo, according to ESPN's Adrian Wojnarowski (Twitter link).
Atlanta will also acquire a pair of second-round picks and cash in the deal, sources tell Charania and Amick (Twitter link). It'll be a homecoming for Williams, who won't be flipped to a third team, tweets Charania.
According to Chris Kirschner of The Athletic (Twitter link), the second-rounders going to Atlanta are 2023 and 2027 picks. That '27 selection will be L.A.'s own. The Clippers control Portland's 2023 second-rounder in addition to their own, so it's not clear which of those picks the Hawks are getting.
---
1:30pm: Lou Williams has been discussed in the Clippers/Hawks negotiations, according to Charania and Sam Amick of The Athletic (Twitter link), who indicate that Williams could end up in Atlanta or be re-routed to a third team.
Williams is on an $8MM expiring contract.
---
1:27pm: The Clippers and Hawks are engaged in serious discussions about a deal that would send Rajon Rondo back to Los Angeles, according to Shams Charania of The Athletic (Twitter link). ESPN's Brian Windhorst reported earlier today that the Clippers were eyeing Rondo.
Rondo, 35, signed a two-year, $15MM contract with Atlanta in the offseason after spending the previous two seasons with the Lakers, winning a championship with the team in 2020.
However, his numbers have dipped since joining the Hawks, as he's averaged a career-low 3.9 points and 3.5 assists per game in just 14.9 minutes per contest. He has also been limited to 27 games due to injuries.
Despite his declining production, Rondo could still be an asset for a team like the Clippers that has been scouring the market for a play-making guard to complement its two star forwards, Kawhi Leonard and Paul George.
If the Clippers swing a deal for Rondo, they'll have to send out some salary. As Bobby Marks of ESPN notes (via Twitter), the point guard's salary is $7.5MM and the Clippers have just $2.6MM in breathing room below their hard cap.
Photo courtesy of USA Today Sports Images.