3:50pm: The Clippers have made it official, announcing that they've signed Cousins to a rest-of-season contract.
---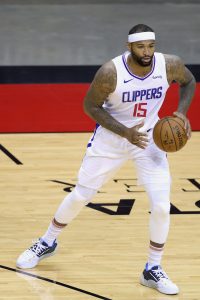 12:04pm: The Clippers will sign big man DeMarcus Cousins to a contract that covers the remainder of the 2020/21 season, league sources Chris Haynes of Yahoo Sports (Twitter link).
Cousins previously signed a pair of 10-day deals with Los Angeles. The second of those contracts expired on Sunday night, and a team isn't permitted to sign a player to a third 10-day pact in the same season, so the Clippers would've had to let Cousins go if they weren't willing to commit to him for the rest of the season.
Cousins, who began the season with the Rockets, has now appeared in eight games as a Clipper, averaging 6.3 points and 4.5 rebounds in just 11.5 minutes per contest. He's making 48.8% shots so far in L.A., scoring far more efficiently than he did in Houston, where he was converting just 37.6% of his attempts from the floor. He has also drawn six charges on the defensive end.
Although Cousins isn't playing a major role for the Clippers, he has fit in well so far and has been an important depth piece with Serge Ibaka (back) sidelined. Head coach Tyronn Lue believes there's room for him to continue improving and to perhaps play a larger role, as Mirjam Swanson of The Southern California News Group writes.
"Once (Cousins) learns the plays and sets, understands what we're trying to do defensively, getting in a little better shape, I think he definitely can (help)," Lue said. "We have a month left before the playoffs start, and for him to get a month of just understanding what we're trying to run, what we're doing, I think it'll make us so much better."
If Cousins officially signs his new deal today, it would pay him $368,903 for the rest of the season, with the Clippers taking on a $233,095 cap hit.
Photo courtesy of USA Today Sports Images.