10:54am: The Raptors have officially signed Gillespie, the team announced in a press release.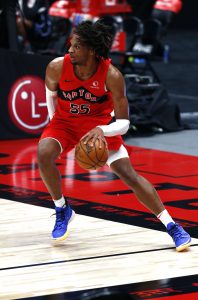 According to Blake Murphy of The Athletic (Twitter link), next season's salary is non-guaranteed. It has a $50K partial guarantee trigger date at some point, then would become fully guaranteed if Gillespie makes the regular season roster.
---
8:33am: The Raptors are set to sign big man Freddie Gillespie to a new contract after his second 10-day deal expired on Tuesday night, according to Shams Charania and Blake Murphy of The Athletic (Twitter link). Gillespie will receive a two-year contract from Toronto, per The Athletic's duo.
Gillespie, who has appeared in 10 games for the Raptors this month, has made a strong impression both on and off the court during his first 20 days with the club. He averaged 5.3 points, 3.6 rebounds, and 1.0 block per game in 16.0 minutes per contest, racking up five blocked shots in just 14 minutes of action during Monday's victory over Cleveland.
Last offseason, the Raptors re-signed Chris Boucher and added Aron Baynes and Alex Len to shore up a frontcourt rotation that no longer included Serge Ibaka and Marc Gasol. However, Len was waived early in the season, Baynes is no longer in the rotation, and Boucher is injured, leaving Gillespie as the team's current backup center behind another recent addition, Khem Birch.
Because the Raptors used their full mid-level exception to sign Baynes and Len and don't have a bi-annual exception available this season, they're limited to the minimum salary exception on Gillespie, meaning they couldn't have offered him more than two years or more than the rookie minimum.
Assuming he finalizes his new deal today, Gillespie will earn $116,903 over the final 19 days of the regular season. His salary for 2021/22 will be $1,517,981, though that figure likely won't be fully guaranteed.
The Raptors will have a full 15-man roster once they officially re-add Gillespie. The club does still have an open two-way contract slot that could be filled before the end of the regular season.
For more on Gillespie's unorthodox journey to the NBA, be sure to read our feature on the former Baylor standout from earlier this year.
Photo courtesy of USA Today Sports Images.