The Cavaliers' 2020/21 season looked pretty similar to most of the team's LeBron James-less seasons over the last two decades. After remaining in the play-in hunt during the first half, Cleveland went into a tailspin to finish the year — the team lost 23 of its final 28 games and ended up with a 22-50 record, tied for the fourth-work mark in the NBA.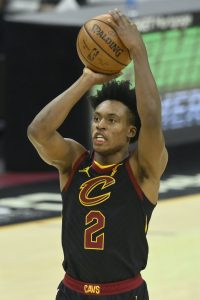 The Cavs have had no shortage of lottery luck over the years, winning the No. 1 pick in 2003, 2011, 2013, and 2014. But the team hasn't picked in the top four since its latest rebuild began, and as a result hasn't landed a clear-cut franchise player to build around.
There are reasons to be optimistic about the backcourt duo of Collin Sexton and Darius Garland, both of whom have made significant positive strides since entering the league, but neither player is a great defender or a lock to be a future All-Star. Isaac Okoro, meanwhile, is already a strong wing defender, but will need to show more on offense than he did as a rookie in order to become a reliable starter.
Inserting themselves into the four-team James Harden deal in order to land on Jarrett Allen was a nice move by the Cavs, adding a young center to the existing core. Getting back into the playoff mix in the East will likely require the team to make a few more savvy moves like that one.
---
The Cavaliers' Offseason Plan:
Tonight's lottery will be big for the Cavs, who will be looking to recapture some of the magic that helped them land the top pick so often in the past. With some luck, they could be in position to nab a future star like Jalen Suggs, Evan Mobley, or even Cade Cunningham. Even if they fall out of the top five, drafting a forward like Scottie Barnes wouldn't be a bad consolation prize.
Following the draft, the Cavs figure to explore the free agent market for a veteran ball-handler who could be signed with the mid-level exception. Cleveland may also be active on the trade market, with Larry Nance Jr. and Cedi Osman among those who could be shopped. And a trade or buyout are in play for Kevin Love. However, the team's top priority this summer may be negotiating a pair of contracts with its own players.
First and foremost, Allen will be a restricted free agent, and after surrendering a first-round pick for him, the Cavs will want to make sure he's locked up long-term. The size of Allen's payday may ultimately hinge on whether another team makes a push to sign him to an offer sheet, which would increase his value, but he'll likely be in line for a salary of at least $15-20MM per year either way.
One wild card in the Allen contract talks would be a scenario where the Cavs draft Mobley. Doing so wouldn't make Cleveland decide to let Allen walk, but it would reduce his leverage, given the positional overlap between the two players.
The Cavs' other big contract negotiation will be with Sexton, who is eligible for a rookie scale extension before the 2021/22 season begins. Given his ascendant offensive game – he averaged 24.3 points per game in 2020/21 – Sexton will likely be seeking the max or something close to it. The club figures to have some reservations about that sort of investment, given the guard's defensive shortcomings and his limited ability to facilitate for teammates. The Cavs have been better with him off the court than on it in each of his three seasons to date.
As is the case with Allen and Mobley, if the Cavs end up drafting a guard like Cunningham or Suggs, it may diminish their enthusiasm to rush into a lucrative long-term deal with Sexton.
---
Salary Cap Situation
Note: Our salary cap projections are based on a presumed 3% increase, which would result in a $112.4MM cap for 2021/22.
Guaranteed Salary
Kevin Love ($31,258,256)
Taurean Prince ($13,000,000)
Larry Nance Jr. ($10,690,909)
Cedi Osman ($8,133,334)
Darius Garland ($7,040,880)
Isaac Okoro ($6,720,720)
Collin Sexton ($6,349,671)
Dylan Windler ($2,239,200)
J.R. Smith ($1,456,667) — Waived via stretch provision.
Total: $86,889,637

Player Options
Team Options
Non-Guaranteed Salary
Damyean Dotson ($2,000,000)
Dean Wade ($1,782,621)
Mfiondu Kabengele ($1,701,593)
Lamar Stevens ($1,517,981)
Total: $7,002,195

Restricted Free Agents
Two-Way Free Agents
Draft Picks
No. 3 overall pick ($8,075,160)
Extension-Eligible Players
Collin Sexton (rookie scale)
Kevin Love (veteran)
Larry Nance Jr. (veteran)
Cedi Osman (veteran)
Taurean Prince (veteran)
Unrestricted Free Agents / Other Cap Holds
Offseason Cap Outlook

Although the Cavaliers have a little less than $87MM in guaranteed money on their books for 2021/22 at the moment, the cap holds for Allen and the No. 3 overall pick will push them well over the $100MM threshold. That will make it an easy choice to operate as an over-the-cap team unless the club makes a cost-cutting move or two.
Even after accounting for new deals for Allen and possibly Hartenstein, the Cavs should have plenty of breathing room below the luxury-tax line, so they could make use of their full mid-level exception this offseason.
Cap Exceptions Available
Mid-level exception: $9,536,000 2
Bi-annual exception: $3,732,000 2
Trade exception: $4,200,000
Trade exception: $1,717,981
Footnotes
Hartenstein will be eligible for restricted free agency if he opts out.
These are projected values.
Salary and cap information from Basketball Insiders and RealGM was used in the creation of this post. Photos courtesy of USA Today Sports Images.