When Troy Weaver took the reins as the Pistons' general manager in 2020, fans and observers were a little caught off guard by his initial series of roster moves.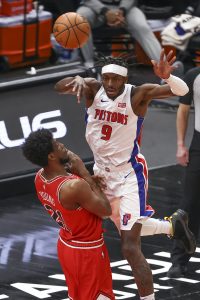 The rebuilding Pistons signed non-star veteran free agents like Jerami Grant and Mason Plumlee to multiyear contracts; acquired players like Dewayne Dedmon and Zhaire Smith, only to waive-and-stretch them; and gave up nearly all of their future second-round picks along with Luke Kennard and Bruce Brown in order to land a third first-round pick in the draft.
Weaver's unorthodox approach to rebuilding – or, as he calls it, "restoring" – didn't exactly pay immediate dividends, as the Pistons' 20-52 record was the worst in the Eastern Conference. But the Pistons' crop of rookies – Killian Hayes, Isaiah Stewart, Bey, and Saben Lee – had promising seasons, Grant thrived in an increased role, and Plumlee proved to be a worthwhile investment.
It may still be a couple years before the Pistons are back in the postseason, but there are reasons to be optimistic about the club's future.
---
The Pistons' Offseason Plan:
The 2021 NBA draft is widely considered to have a top tier of five players, and there's approximately an 80% chance the Pistons will secure a top-five pick, putting the team in position to select Cade Cunningham, Evan Mobley, Jalen Suggs, Jalen Green, or Jonathan Kuminga.
Drafting any of those players would be a great start to the offseason for Weaver and company. Landing at No. 6 would be a setback, but would still give Detroit a chance to add a promising prospect to its young core.
The dead money that the Blake Griffin buyout left on the Pistons' books for 2021/22 will hinder the team from opening up a ton of cap room. But as we saw last fall, Weaver won't hesitate to take some chances and make the most of what little space the team does have.
Still, I wouldn't expect the Pistons to be quite as active or aggressive as they were a year ago, when they were involved in seven offseason trades and handed out multiple long-term contracts in free agency. Weaver will certainly continue working to reshape the roster to meet his vision, but I'd be surprised if the Pistons' lottery pick isn't the team's most noteworthy roster addition this summer.
Detroit's figures to focus on finding under-the-radar value and perhaps even using its limited cap room to accommodate a salary-dump trade that helps replenish the team's collection of second-round picks. Then, the priority will be player development — the organization has already brought in John Beilein and is overhauling Dwane Casey's coaching staff with that goal in mind.
---
Salary Cap Situation
Note: Our salary cap projections are based on a presumed 3% increase, which would result in a $112.4MM cap for 2021/22.
Guaranteed Salary
Blake Griffin ($29,764,126) — Bought out.
Jerami Grant ($20,002,500)
Mason Plumlee ($8,137,500)
Killian Hayes ($5,572,680)
Josh Jackson ($5,005,350)
Sekou Doumbouya ($3,613,680)
Isaiah Stewart ($3,277,080)
Dewayne Dedmon ($2,866,667) — Waived via stretch provision.
Saddiq Bey ($2,824,320)
Cory Joseph ($2,400,000) — Partial guarantee. Non-guaranteed portion noted below. 1
Jahlil Okafor ($2,130,023)
Deividas Sirvydis ($1,517,981)
Zhaire Smith ($1,068,200) — Waived via stretch provision.
Total: $88,180,107

Player Options
Team Options
Non-Guaranteed Salary
Restricted Free Agents
Dennis Smith Jr. ($7,031,451 qualifying offer / $17,060,031 cap hold): Bird rights
Hamidou Diallo ($2,079,826 qualifying offer / $2,079,826 cap hold): Bird rights
Total (cap holds): $19,139,857

Two-Way Free Agents
Draft Picks
No. 1 overall pick ($10,050,120)
No. 37 overall pick (no cap hold)
No. 42 overall pick (no cap hold) 5
No. 52 overall pick (no cap hold)
Extension-Eligible Players
Cory Joseph (veteran)
Rodney McGruder (veteran)
Unrestricted Free Agents / Other Cap Holds
Offseason Cap Outlook

The Pistons have $88MM in guaranteed money on their books and will retain Diallo's $2MM cap hold as they look to work out a new deal with him. That puts the team in position to operate either over or under the cap, depending in large part on whether they want to bring back Joseph. The cap hold for their first-round pick will also be a factor — it could be worth $10MM+ if it's the No. 1 pick or less than $6MM if it's No. 6.
My best guess for now is that the Pistons will waive Joseph before his salary becomes fully guaranteed and perhaps stretch his partial guarantee across three years, maximizing their flexibility in 2021. That could leave the team with $15MM+ in potential cap space. But again, if Detroit lands the first overall pick and/or really wants to keep Joseph around, operating over the cap – and having the full mid-level and bi-annual exceptions available – is another viable path for the team.
Cap Exceptions Available
Room exception: $4,910,000 6
Footnotes
Joseph's salary becomes fully guaranteed after August 1.
McGruder's salary becomes fully guaranteed in mid-August (exact date TBD).
Cook's salary becomes fully guaranteed after August 10.
Because he'll have four years of NBA service, Jackson is ineligible to sign another two-way contract.
This pick could move up to No. 41 if San Antonio's first-round pick moves ahead of Charlotte's in the lottery.
This is a projected value. If the Pistons operate over the cap, they'd have the mid-level exception ($9.5MM), bi-annual exception ($3.7MM), and a trade exception ($2MM) available.
Salary and cap information from Basketball Insiders and RealGM was used in the creation of this post. Photos courtesy of USA Today Sports Images.