Bucks forward/center Bobby Portis won't pick up his player option for the 2021/22 season, agent Mark Bartelstein tells Adrian Wojnarowski of ESPN (Twitter link).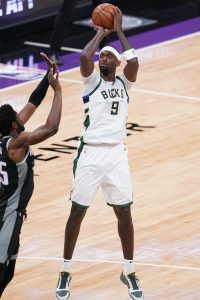 If Portis had opted into the final year of his deal, he would've earned a $3,804,150 salary. Instead, he'll become an unrestricted free agent in search of a new contract.
Portis, 26, took a modest offer worth the bi-annual exception in free agency last fall in order to join the Bucks and played a key role in the team's championship run. The veteran big man averaged 11.4 PPG and 7.1 RPG on .523/.471/.740 shooting in 66 regular season games (20.8 MPG), then contributed 8.8 PPG and 5.0 RPG in 20 postseason contests (18.3 MPG).
Declining his second-year option doesn't preclude a return to the Bucks for Portis, who emerged as a fan favorite in Milwaukee. However, the club's ability to offer him a raise will be limited.
The Bucks only hold Portis' Non-Bird rights, which would allow them to offer a starting salary worth up to about $4.2MM. If they want to dip into their taxpayer mid-level exception, the Bucks could go up to about $5.9MM in year one. Portis will likely receive more lucrative offers on the open market.
Still, the former first-round pick accepted a discount to sign with Milwaukee once and could be open to doing so again if he wants to try to earn a second consecutive title with Giannis Antetokounmpo and company. The Bucks and Portis reportedly have mutual interest in a new deal.