Trail Blazers forward Derrick Jones Jr. is set to exercise his $9.7MM player option for 2021/22, per Shams Charania of The Athletic (Twitter link).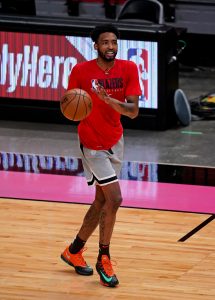 The 6'5″ forward, 24, was a role player during his first season with Portland. After going undrafted out of UNLV in 2016, the athletic Jones first caught on with the Suns before eventually linking up for a three-season stint with the Heat, which included a 2020 NBA Finals run.
Jones's offensive contributions with the Trail Blazers this past season were fairly modest, but he made an effective impact as a versatile defender. He averaged 6.8 PPG, 3.5 RPG, and 0.9 BPG across 22.7 MPG during the regular season. Jones suited up for 58 contests with the team, including 43 starts, falling out of the rotation down the stretch.
With Jones now in the fold, the Trail Blazers have eight players on fully guaranteed contracts for the upcoming season. Center Jusuf Nurkic's $12MM deal with the club is partially guaranteed, but he's unlikely to be waived, despite being healthy for just 45 of a possible 146 games during his last two seasons with Portland.
Starting Portland shooting guard Norman Powell, who had an $11.6MM player option ahead of the 2021/22 season, declined his player option last week.
The Trail Blazers decided to not extend a $7MM qualifying offer to injury-prone power forward Zach Collins, thus making him an unrestricted free agent. Collins has appeared in just 154 of a possible 310 games across his four NBA seasons.