7:18pm: The Wizards and Lakers have agreed to terms on a Westbrook trade, reports Shams Charania of The Athletic (via Twitter).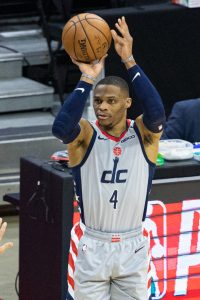 In addition to Westbrook, the Lakers will receive a 2024 second-round pick and a 2028 second-rounder in exchange for Kuzma, Harrell, Caldwell-Pope, and the No. 22 pick.
Reports have suggested that the trade isn't viewed as a precursor a deal involving Beal, who still reportedly wants to remain with the Wizards.
---
4:49pm: Confirming that the Lakers and Wizards are moving toward a Westbrook deal, Broderick Turner of The Los Angeles Times tweets that there are still ongoing discussions between the two teams about the draft assets involved — the Wizards could end up sending the Lakers a second-round pick, says Turner.
Meanwhile, Jake Fischer of Bleacher Report tweets that a deal may not be officially completed until the new league year begins next week. It could grow into a larger multi-team trade during free agency, Fischer suggests.
---
4:30pm: The Lakers and Wizards are nearing a deal to trade Westbrook for Kuzma, Caldwell-Pope, Harrell, and L.A.'s No. 22 overall pick, sources tell ESPN's Adrian Wojnarowski (via Twitter). However, Woj cautions that no agreement is in place yet (Twitter link).
---
4:20pm: The Lakers and Wizards are engaged in discussions about a possible trade that would send Southern California native and former UCLA star Russell Westbrook back home, according to Shams Charania of The Athletic (Twitter link).
As Charania explains, Westbrook would like to be moved elsewhere and the Lakers are his preferred landing spot. The two teams are talking about a deal that would involve Kyle Kuzma, Kentavious Caldwell-Pope, and Montrezl Harrell, according to Charania (Twitter link), who says the Lakers' No. 22 pick could also be in play.
The Lakers have also discussed those players and their first-round pick with the Kings in conversations about a possible Buddy Hield trade. It's hard to see how L.A. would be able to acquire both Westbrook and Hield, so if both Sacramento and Washington are on board with working toward a deal, the Lakers will have to choose which player to pursue.
It sounds for now like Westbrook is the Lakers' primary focus, according to Charania (Twitter link), who classifies the club's talks with the Wizards as "serious."
The Lakers were linked to Westbrook last week, as the team is in the market for a play-making point guard to complement LeBron James and Anthony Davis. If they're able to complete a deal for Westbrook, it would reduce the Lakers' need to re-sign Dennis Schröder, though it wouldn't necessarily create any additional cap obstacles to doing so.
As for the Wizards, if they move forward with trading Westbrook, the big question will be how it affects Bradley Beal, who was rumored to be mulling his future this past week. For what it's worth, Caldwell-Pope is very close friends with Beal, notes Fred Katz of The Athletic (Twitter link). ESPN's Adrian Wojnarowski suggests (via Twitter) that the Wizards' goal would be to keep Beal, using the trade to create some future cap flexibility to continue adding talent around him.