5:07pm: The Pistons have officially waived Joseph and Sirvydis, the team confirmed in a press release. Detroit also announced that Cook has been waived. As noted below, his salary for 2021/22 had been fully non-guaranteed.
---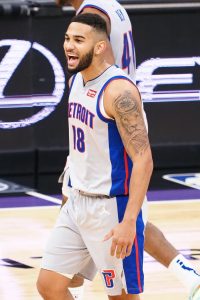 3:36pm: The Pistons are waiving a pair of players from their roster, according to Shams Charania and James Edwards III of The Athletic, who report (via Twitter) that Cory Joseph and Deividas Sirvydis will be released.
Joseph's $12.6MM salary for the 2021/22 season was only partially guaranteed for $2.4MM. Sirvydis had a fully guaranteed salary for the coming season, but his cap hit was just $1.52MM and his 2022/23 salary was non-guaranteed.
Detroit will have the option of either applying the dead money for Joseph and Sirvydis solely to the team's 2021/22 cap or stretching those cap charges across multiple seasons to generate more space this offseason. That possibility shouldn't be ruled out, since the Pistons' trade of Mason Plumlee suggested the club is looking to open up cap room for free agency.
John Hollinger of The Athletic (Twitter link) estimates that Detroit could get up to about $22MM in cap space by stretching Joseph and Sirvydis and cutting Rodney McGruder and Tyler Cook, who have non-guaranteed contracts.
Joseph, who will turn 30 in August, began last season with Sacramento and was sent to Detroit at the March trade deadline. He played well with the Pistons down the stretch, averaging 12.0 PPG, 5.5 APG, and 3.2 RPG on .506/.368/.878 shooting in 19 games (26.4 MPG). Joseph should be an appealing target for teams in the market for a backup point guard.
A Lithuanian wing, Sirvydis was the No. 37 pick in the 2019 draft and was stashed for a year overseas before signing his first NBA contract in the 2020 offseason. His rookie season was uninspiring, as he played limited minutes in 20 games, averaging 2.1 PPG and 1.5 RPG in 6.7 MPG. A return to Europe seems like a possibility for Sirvydis.