The Wizards are adding some point guard reinforcements and the Pacers are adding even more promising size, according to Shams Charania of The Athletic.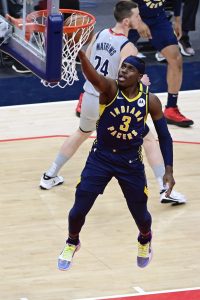 Charania reports (via Twitter) that Washington is sending the No. 22 draft pick they're getting from the Lakers – 6'10" Kentucky big man Isaiah Jackson – to Indiana in exchange for point guard Aaron Holiday and the still-undrafted No. 31 selection (which the Pacers are set to acquire from the Bucks for two late second-round picks).
All three transactions – the Lakers/Wizards, Bucks/Pacers, and Wizards/Pacers trades – have yet to be officially announced.
The Wizards have been quite active so far during the 2021 NBA draft. They agreed to acquire Los Angeles' No. 22 pick, in addition to several veteran role players, in exchange for veteran point guard Russell Westbrook and two future second-round picks earlier today.
J. Michael of the Indianapolis Star, who has previously reported the Pacers' Holiday trade talks, says the young point guard is "elated" by the move (Twitter link). The youngest Holiday brother playing in the NBA was supplanted by T.J. McConnell as the Pacers' reserve point guard during the 2019/20 and 2020/21 seasons.
Still on his rookie contract for 2021/22, Holiday will have ample opportunity to get more run in Washington. The 6'0″ Holiday has room to grow. He is still just 24 ahead of his fourth pro season.
Michael adds (via Twitter) that the Pacers are finished making moves in this draft with this move. The club also selected Oregon swingman Chris Duarte with its No. 13 selection. Michael also tweets that he projects free agent McConnell as a "lock" to re-sign with Indiana now.