The Bulls and Spurs have officially finalized the sign-and-trade deal sending veteran forward DeMar DeRozan to Chicago, reports Chris Haynes of Yahoo Sports (Twitter link).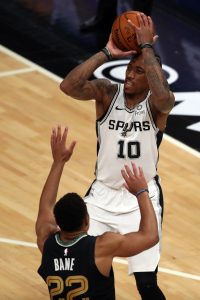 DeRozan confirmed (via Twitter) that his deal with Chicago, which was first reported last Tuesday, is now done, while the Bulls and Spurs issued press releases announcing the move. DeRozan reportedly received a fully-guaranteed three-year, $85MM commitment from Chicago
In exchange for the four-time All-Star, the Spurs received forwards Thaddeus Young and Al-Farouq Aminu, a future protected first-round pick, the Lakers' 2022 second-round pick, and the Bulls' 2025 second-round pick. The earliest the Spurs will receive that first-round pick from Chicago is in 2025, since the Bulls owe a top-four protected 2023 first-rounder to Orlando.
[RELATED: Hoops Rumors Glossary: Ted Stepien Rule]
The move punctuates a productive offseason for the Bulls, who also landed Lonzo Ball in a sign-and-trade with New Orleans and signed Alex Caruso using the mid-level exception. They'll join a group led by Zach LaVine and Nikola Vucevic as Chicago looks to get back to the playoffs for the first time since 2017.
While DeRozan's lack of a three-point shot (he has made 35 in the last three seasons) is an oddity for a wing in the modern NBA, his mid-range game is deadly and he has become a legitimately dangerous play-maker, averaging a career-best 6.9 assists per game in 2020/21 to go along with his 21.6 PPG and 4.2 RPG. Opponents will have a tough time stopping lineups featuring him, LaVine, and Vucevic, even if it won't be the most stout group defensively.
The Sixers, Suns, Trail Blazers, Warriors, Celtics, Clippers, and Knicks were reportedly among the teams to express interest in DeRozan, but some of those clubs went in different directions and several didn't have the ability to match or top the Bulls' offer to the 32-year-old.
With Ball, DeRozan, and Caruso officially locked up, the Bulls will focus on resolving Lauri Markkanen's contract situation. The restricted free agent forward is reportedly looking for a fresh start away from Chicago, but the Bulls won't want to let him walk without getting an asset or two in return.
The Spurs, meanwhile, are now free to move forward on completing the rest of their reported free agent signings, including Zach Collins, Bryn Forbes, and Jock Landale.
The DeRozan deal had been the last trade reported during the 2021 offseason that hadn't yet been finalized. All of this month's reported trades are now official.