Suns star Chris Paul is declining his $44.2MM player option for the 2021/22 season, allowing him to enter unrestricted free agency this week, according to Shams Charania of The Athletic (Twitter link).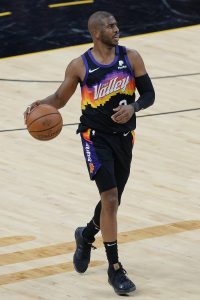 As we previously relayed, Paul remains likely to re-sign with the team on a new deal. ESPN's Adrian Wojnarowski reports (via Twitter) that there remains optimism between both sides that a new agreement will be reached in free agency.
Entering free agency will allow Paul to seek a multiyear contract and one last big payday. The 36-year-old reached the NBA Finals for the first time in his 16-year career last season, averaging 16.4 points and 8.9 assists per game and earning All-NBA Second Team honors. He's widely considered to be the most valuable guard on the open market this summer.
As ESPN's Bobby Marks notes (via Twitter), the Suns can sign Paul to a contract up to four years if he officially opts out. Other teams with salary cap space are restricted to offering him a three-year deal due to the Over-38 rule, which is designed to prevent teams from circumventing the salary cap by offering a contract that extends beyond when the club expects a player to end his career. Paul will turn 38 in May of 2023.
In addition to his impressive averages, Paul also shot 49.9% from the floor and 39.5% from three-point range — all while playing 70 of 72 regular-season games for Phoenix in 2020/21. He was in the final year of a four-year, $160MM contract signed in 2018.