AUGUST 3, 7:37am: Young's extension will include an early termination option after the fourth year, according to RealGM (Twitter link). An ETO is similar to a player option, so Young will have the ability to opt out and sign a new deal in 2026.
---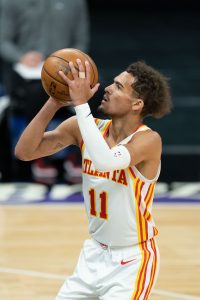 AUGUST 2, 11:02pm: The Hawks and Young are in agreement on a five-year, maximum-salary extension, agent Omar Wilkes tells Adrian Wojnarowski of ESPN (Twitter link).
Wojnarowski pegs the projected value of Young's deal at $207MM, which would mean a starting salary worth 30% of a $119MM cap in 2022/23. That suggests that Atlanta has indeed put Rose Rule language in the deal, but Young will still need to meet the criteria to earn that amount. If he fails to earn All-NBA honors next season, the extension would be worth a projected $172.55MM.
---
AUGUST 2, 3:59pm: The Hawks and star guard Trae Young are expected to finalize an agreement on a maximum-salary contract extension shortly after he becomes extension-eligible on Monday night, reports Jeff Schultz of The Athletic (Twitter link).
The move had been widely expected, as Young has emerged as the cornerstone of a Hawks team that made a surprising Eastern Conference Finals run this season.
He averaged 25.3 PPG, 9.4 APG, and 3.9 RPG in 63 regular season games (33.7 MPG) in 2020/21, then helped lead Atlanta past the Knicks and Sixers in the first two rounds of the playoffs before suffering a foot injury in the Eastern Finals vs. Milwaukee.
Young remains under his rookie contract for one more season and will earn $8.33MM in 2021/22. His extension would go into effect in '22/23.
The exact value of that deal would depend on where the cap lands for the 2022/23 season. However, a conservative estimate would result in a five-year deal of approximately $168MM.
That number could increase to about $201.5MM if the Hawks include Rose Rule language that would bump Young's starting salary to 30% of the cap instead of 25%. However, he'd have to earn an All-NBA spot this coming season to trigger that increase.
Young is one of a number of young stars entering the final year of their respective rookie contracts who could receive a maximum-salary extension shortly after the NBA's new league year begins.
Luka Doncic, who has already qualified for the 30% max, is in line to get a five-year extension, though it likely won't be finalized until after the Olympics. Multiple reports have indicated the Thunder will likely lock up Shai Gilgeous-Alexander to a max-salary extension, and Marc Stein identified Deandre Ayton (Suns) and Michael Porter Jr. (Nuggets) as other strong candidates for max extensions.