AUGUST 6: The Heat have officially re-signed Dedmon, the team announced today in a press release.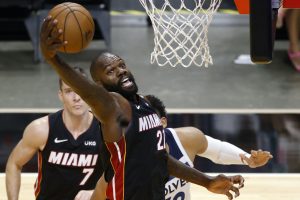 "We love Dewayne and his aggressive attitude at the center position," team president Pat Riley said in a statement. "He's a great screener, rebounder and can stretch the floor. He came in after missing most of the season and had a tremendous impact for us. His veteran presence and physicality are going to help anchor our defense and with a whole year under his belt, he will be even better."
---
AUGUST 3: Dedmon's new deal will be worth the minimum, tweets Anthony Chiang of The Miami Herald.
---
AUGUST 2: The Heat have agreed to terms with free agent center Dewayne Dedmon, according to Shams Charania of The Athletic, who reports (via Twitter) that it'll be a one-year contract.
Dedmon, who will turn 32 this month, joined the Heat for the home stretch of the 2020/21 season and played well, averaging 7.1 PPG and 5.4 RPG with a .708 FG% in 16 games (13.1 MPG).
Miami reportedly had interest in re-signing him but wasn't sure about its chances, since the team only held Non-Bird rights and Dedmon had been on a minimum-salary contract, limiting his ability to get a raise. While the details of the deal haven't yet been reported, it seems likely it'll be either another minimum deal or something close to it.
It has been a busy first day of free agency for the Heat, who have now secured commitments from Kyle Lowry, Duncan Robinson, P.J. Tucker, and Dedmon. The team is also lining up a maximum-salary extension for Jimmy Butler.