AUGUST 7: The move is official, tweets Ira Winderman of The Sun-Sentinel, who confirms that it's a one-year deal for the veterans minimum. Miami will retain Bird Rights on Oladipo.
"We really like Victor's versatility and how he impacts the game in multiple ways," team president Pat Riley said. "His speed skill set fits perfectly into the core we have built."
---
1:00pm: It's a minimum-salary contract for Oladipo, a source confirms to Scott Agness of Fieldhouse Files (Twitter link).
---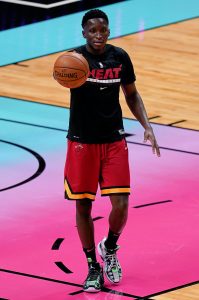 AUGUST 4, 12:29pm: Free agent guard Victor Oladipo has agreed to a deal to rejoin the Heat, sources tell Shams Charania of The Athletic (Twitter link).
While Charania doesn't provide any additional details on the terms of the contract, he tweets that Oladipo's plan is rebuild his value and return to the open market in 2022, which suggests it's a one-year deal. Given Miami's limited cap flexibility, it's likely worth either the veteran's minimum or something close to it.
Oladipo, who was named an All-Star in 2018 and 2019, has been slowed in recent years by a ruptured quad tendon he suffered in January 2019. The 29-year-old missed approximately a full calendar year while recovering from the injury and didn't look like his old explosive self upon returning.
The Pacers traded Oladipo to the Rockets in the four-team James Harden blockbuster earlier this year, and Houston subsequently flipped him to Miami at the trade deadline. The former No. 2 overall pick was able to play in just four games for the Heat before health issues ended his season.
Oladipo went under the knife in May, once again undergoing surgery to repair his right quad tendon. There had been some speculation that he might not sign a new deal for a few months while he gets healthy, but it appears he'll complete his rehab while under contract with the Heat.
According to Barry Jackson of The Miami Herald (Twitter link), the veteran guard is optimistic that he'll be able to return to the court sometime between late December and early February.
Oladipo's best individual season came in 2017/18 with the Pacers, when he averaged 23.1 PPG, 5.2 RPG, 4.3 APG, and a league-high 2.4 SPG with a .477/.371/.799 shooting line. While the Heat aren't expecting those kind of numbers from him when he returns this year, they reflect his ability to make a major impact on both ends of the court when he's fully healthy.
If Oladipo can contribute during the second half of the 2021/22 season, he'll give the Heat another option to deploy in tough defensive lineups that will feature the likes of Jimmy Butler, Kyle Lowry, Bam Adebayo, P.J. Tucker, and Markieff Morris.