AUGUST 7: Oubre and the Hornets have now finalized a two-year, $25MM contract, agent Torrel Harris tells Chris Haynes of Yahoo Sports (Twitter link). Charlotte announced the signing in a press release.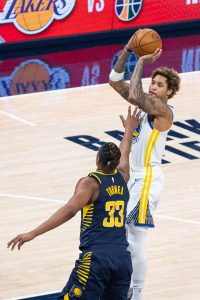 It appears Oubre's starting salary will come in slightly lower than initially expected after Charlotte took on Wesley Iwundu in a trade with New Orleans.
The deal won't feature any options, per Michael Scotto of HoopsHype (Twitter link). However, Rod Boone of SI.com (Twitter link) says the second year will be partially guaranteed and Anthony Slater of The Athletic provides the specifics, tweeting that $5MM of Oubre's $12.6MM salary for 2022/23 will be guaranteed.
---
AUGUST 5: The Hornets and free agent wing Kelly Oubre are in agreement on a two-year deal that will be worth $26MM+, sources tell Shams Charania of The Athletic (Twitter link).
David Aldridge of The Athletic reported earlier on Thursday that the Hornets and Oubre had engaged in discussions, while Chris Haynes of Yahoo Sports was first to report that the two sides were finalizing a multiyear deal expected to exceed $12MM per year.
Charlotte, one of the only NBA teams that still had the cap room necessary to make an offer worth more than the full mid-level exception ($9.5MM), had also reportedly been mulling an offer sheet for Lauri Markkanen. However, the Hornets' agreement with Oubre will eat up most – if not all – of their remaining cap room, presumably taking an aggressive bid for the Bulls' restricted free agent forward off the table.
Oubre, 25, has spent time with the Wizards, Suns, and Warriors since entering the league as the 15th overall pick in the 2015 draft. In 2020/21, he averaged 15.4 PPG and 6.0 RPG on .439/.316/.695 shooting in 55 games (30.7 MPG) for Golden State.
While Oubre possesses good size and athleticism for a three-and-D wing, his three-point shot has been inconsistent over the course of his career (32.6%).
Charlotte will be hoping to get the 2019/20 version of Oubre, who averaged 18.7 PPG with a .352 3PT% for the Suns. The former Kansas Jayhawk will join a talented group of Hornets forwards that includes Gordon Hayward, Miles Bridges, and P.J. Washington.
Since the Hornets have the ability to sign Oubre outright using their cap room and his new contract will only be for two years, it won't be a sign-and-trade deal involving the Warriors.