The Knicks' have turned their free agent agreement with swingman Evan Fournier into a sign-and-trade deal with the Celtics, announcing today in a press release that they've officially acquired Fournier and two future second-round picks from Boston in exchange for cash. Fournier received a four-year deal that includes a fourth-year team option and can reportedly be worth up to $78MM.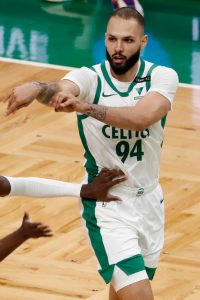 Turning the transaction into a sign-and-trade will allow the Celtics to create a traded player exception worth Fournier's first-year salary. That new trade exception will be worth $17.1MM, tweets Adam Himmelsbach of The Boston Globe.
The Knicks, meanwhile, had the cap room necessary to sign Fournier outright, but will pick up some extra draft assets due to their willingness to work with Boston on a sign-and-trade agreement.
According to Himmelsbach (Twitter link), one of the two second-round picks the Knicks are receiving is heavily (top-55) protected — it's the Hornets' 2022 second-rounder. The other pick will be a 2023 second-rounder that originally belonged to Oklahoma City, Washington, Miami, or Dallas.
It's a similar move to the one the Celtics made last fall when Gordon Hayward left for Charlotte in free agency — the Hornets acquired a pair of second-rounders in that deal, while Boston created a $28.5MM trade exception.
Fournier, who had spent six seasons in Orlando entering the 2020/21 season, was traded from the Magic to the Celtics in a midseason deal that used the Hayward trade exception. He dealt with a handful of health issues over the course of the season, but had a solid overall year when he was available, averaging 17.1 PPG, 3.4 APG, and 3.0 RPG on .457/.413/.788 shooting in 42 total games (30.0 MPG) for Orlando and Boston.
The Celtics explored re-signing Fournier, but recognized they'd face competition on the open market and pivoted to acquiring Josh Richardson (using the rest of the Hayward TPE) to address the wing position. The Knicks ultimately outbid Boston to land Fournier.
"We identified Evan as a key addition as we entered free agency and are ecstatic that he's joining us," Knicks president Leon Rose said in a statement. "He's a great teammate, a fierce competitor, and a perfect complement to our returning players. He wants to be a part of what we are building here, and we are happy to have him join our family."
The Knicks have now officially completed their deals with Fournier, Nerlens Noel, and Kemba Walker. The team still has to announce a few other signings, including Derrick Rose, Alec Burks, and Taj Gibson.