The Knicks and Evan Fournier are in agreement on a four-year contract that could be worth up to as much as $78MM, a source tells ESPN's Adrian Wojnarowski (Twitter link). The fourth year isn't guaranteed, Wojnarowski adds (via Twitter).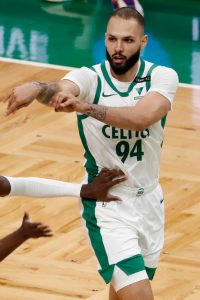 The Knicks, who entered the free agent period with the most money to spend, were looking for a wing to provide an offensive boost. Fournier will step right in as the team's starting shooting guard or small forward.
He averaged 17.1 PPG and 3.4 APG in a combined 42 regular-season games with Orlando and Boston during his walk year. He missed time due to back, groin and knee injuries and also was placed under health and safety protocols after contracting COVID-19 in April.
Fournier averaged 15.4 PPG in five postseason games.
During the 2019/20 season, Fournier averaged a career-best 18.5 PPG in 66 games. He's a career 37.9% 3-point shooter.
The Celtics signaled they wouldn't try to re-sign Fournier when they acquired Josh Richardson from Dallas.