AUGUST 27: Randle's extension is official, the Knicks announced (via Twitter).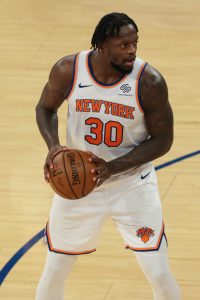 "Julius Randle embodies everything you want your star player and leader to be about, and we couldn't be happier about the long-term commitment we made to each other," said team president Leon Rose. "His hard work and dedication to his craft are second to none and what he did last season won't be forgotten by New Yorkers any time soon. We can't wait to see what's next for him."
---
AUGUST 5: The Knicks have agreed to sign forward Julius Randle to a contract extension, tacking on four years to the one season left on his existing contract, agents Aaron Mintz and Steven Heumann tell ESPN's Adrian Wojnarowski. The deal will include a player option for 2025/26, per Wojnarowski.
While Wojnarowski reports that the four-year extension will be worth $117MM, that figure includes some incentives — the extension will have a base value of about $106.4MM and could max out at just over $122MM if Randle earns all of his bonuses in every season of the deal (which is very unlikely). It's the most the Knicks could have offered Randle this season.
As Bobby Marks of ESPN notes (via Twitter), the incentives in the contract are related to making the playoffs, earning an All-Star nod, and making the All-Defense team. Randle earned the first two in 2020/21.
Randle, 26, had his best year as a pro this past season, establishing new career bests in PPG (24.1), RPG (10.2), APG (6.0), and 3PT% (.411), among several other categories.
The former seventh overall pick appeared in all but one regular season game, averaging an NBA-high 37.6 minutes per contest and helping to lead the Knicks to a No. 4 seed in the East and their first playoff berth since 2013. He was named Most Improved Player for the 2020/21 season and made the All-NBA Second Team.
Because Randle would be eligible for a longer, more lucrative contract if he waited until 2022 to reach free agency, there was some uncertainty about how willing he'd be to discuss an extension with the Knicks this summer. However, Wojnarowski writes that the former Laker and Pelican was eager to commit long-term to a team and city "he has come to adore."
Randle also wanted to give the Knicks some financial flexibility rather than pushing for a higher salary in a year, per Marc Berman of The New York Post and Ian Begley of SNY.tv (Twitter links). Of course, locking in a new deal now gives him some security in the event of an injury or regression next season.
It has been a busy week for the Knicks, who agreed to multiyear deals with free agents Evan Fournier, Alec Burks, Nerlens Noel, and Derrick Rose. All of those players are signing either three- or four-year contracts with team options in the final season. The club also intends to sign Kemba Walker, who should hit waivers soon after reaching a buyout agreement with the Thunder.
Randle's deal represents one of several lucrative contract extensions agreed to around the NBA this week. Stephen Curry (Warriors), Trae Young (Hawks), Jimmy Butler (Heat), and Shai Gilgeous-Alexander (Thunder) have all agreed to long-term deals worth well into the nine figures, while Luka Doncic (Mavericks) is set to finalize an extension following the Olympics.