AUGUST 6: Gay has officially signed his contract with the Jazz, the team announced today in a press release.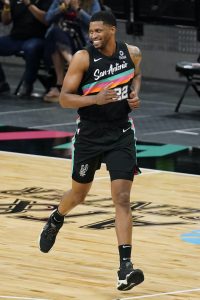 "Rudy brings a valuable veteran presence to the Jazz which will only enhance our group as it continues to evolve," Jazz general manager Justin Zanik said in a statement. "He's proven to be one of the most consistent players in the NBA over his 15-year career and we're thrilled for him to join our club."
---
AUGUST 3: The Jazz have reached an agreement with veteran forward Rudy Gay, tweets Shams Charania of The Athletic.
It will be a two-year deal worth $12.1MM with a player option for the second season, according to his agents, Raymond Brothers and Sam Permut (Twitter link). Utah will use its taxpayer mid-level exception, adds John Hollinger of The Athletic (Twitter link).
Gay, who will turn 35 this month, spent the last four seasons with the Spurs, where he was a reliable contributor off the bench for Gregg Popovich. He averaged 11.4 points and 4.8 rebounds in 63 games last season, which was his 15th in the NBA.
Gay will join Utah's big man rotation in place of Derrick Favors, who was traded to the Thunder last week. He also reunites with re-signed point guard Mike Conley, a former teammate with the Grizzlies.
The Jazz will be limited to minimum-salary contracts for any further free agent signings.