9:47am: The deal is official, the Sixers announced today (via Twitter).
---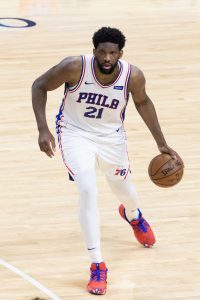 7:17am: The Sixers and star center Joel Embiid are finalizing a four-year, super-max contract extension that will keep him under contract through the 2026/27 season, reports Ramona Shelburne of ESPN. According to Shams Charania of The Athletic (Twitter link), the two sides have reached an agreement.
Embiid still has two years and $65.2MM left on his current contract, so his new deal will go into effect in 2023/24 and will have a starting salary worth 35% of that season's cap. If we project a $125MM cap for '23/24, Embiid's extension would start at $43.75MM and would be worth $196MM over four years.
Embiid became eligible for a super-max extension when he earned a spot on the All-NBA Second Team in June. Unlike his previous contract, the 27-year-old's new deal will be fully guaranteed without any protection related to potential injuries, according to Shelburne.
The 76ers put language related to possible recurring foot and back issues in their prior agreement with Embiid because he had been limited to just 31 total games in his first three NBA seasons at the time he signed it. Since then, he has avoided major injuries, appearing in at least 51 regular season games in each of the last four years.
Embiid has also earned four All-Star berths and three All-NBA nods since signing his last extension and is coming off the best season of his NBA career. He put up 28.5 PPG, 10.6 RPG, 2.8 APG, and 1.4 BPG on .513/.377/.859 shooting in 51 games (31.1 MPG), helping to lead Philadelphia to the No. 1 seed in the East.
Despite suffering a meniscus tear in his right knee during the first round of the postseason vs. Washington, Embiid only missed a single playoff game and had a big second-round series vs. Atlanta, averaging 30.4 PPG, 12.7 RPG, 3.9 APG, and 2.0 BPG. However, it wasn't enough to get the Sixers to the Eastern Conference Finals, as the Hawks won the seven-game series.
Embiid, who didn't require surgery on his right knee after the season ended, represented himself in extension negotiations, per Shelburne.
The 76ers now have Tobias Harris locked up through 2024, Ben Simmons through 2025, and Embiid through 2027. The trio is earning a combined $100MM+ in 2021/22, and that number will only increase in future seasons.
Simmons' future in Philadelphia remains very much up in the air, however — while there has been no indication that the Sixers have engaged recently in any serious trade talks involving Simmons, there are also no assurances he'll be on the team's opening-night roster this fall.