AUGUST 25: Three weeks after agreeing to a deal with the Spurs, Forbes has formally signed his new contract, he told Jeff McDonald of The San Antonio Express-News (Twitter link).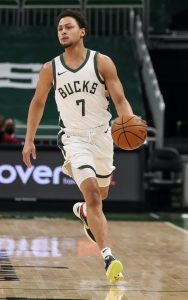 "It was a great year (in Milwaukee)," Forbes told McDonald. "But I'm happy to be home."
The terms of Forbes' contract still aren't known, but they should surface soon now that the deal is done. The Spurs have used up their cap space, so they may use the room exception to pay Forbes more than the minimum.
---
AUGUST 4: Free agent shooting guard Bryn Forbes is expected to return for a second stint in San Antonio. Per Shams Charania of The Athletic (Twitter link), the Spurs have agreed to ink old friend Forbes, hot off a championship run with the Bucks, to a new contract. The terms of the agreement have yet to be disclosed.
After going undrafted out of Michigan State in 2016, Forbes impressed San Antonio during a Summer League run with the club.
He then signed on with the Spurs for the start of the 2016/17 season and had been with the team for his entire NBA career, until departing for Milwaukee on a two-year, $4.79MM deal in free agency during the 2020 offseason.
Earlier this summer, Forbes declined the player option on the second year of his Milwaukee deal after proving himself as a solid offensive contributor during the Bucks' 2021 postseason run.
Forbes, 28, appeared in 70 games with the Bucks during the abbreviated 72-game 2020/21 NBA season. In 19.3 MPG, the 6'2″ wing averaged 10.0 PPG and 1.6 RPG, with a stellar shooting line of .473/.452/.770.
The Spurs have been active in free agency thus far. The team has also added Doug McDermott, Zach Collins and NBL big man Jock Londale in free agency. San Antonio also moved 2020/21 leading scorer DeMar DeRozan in a sign-and-trade deal that will net them future draft equity, plus veteran forwards Thaddeus Young and Al-Farouq Aminu.
Photo courtesy of USA Today Sports Images.