AUGUST 7: The three-team trade is now official, the Kings, Celtics, and Hawks all announced today in press releases.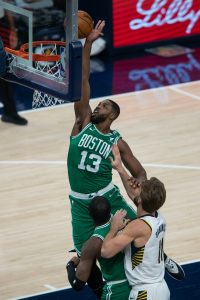 The 2023 second-round pick that the Hawks are sending to Boston originally belonged to the Trail Blazers and was shipped to Atlanta by the Clippers in the Lou Williams trade in March, according to Jared Weiss of The Athletic (Twitter link).
---
JULY 30: The Celtics are trading veteran big man Tristan Thompson to the Hawks for guard Kris Dunn, forward Bruno Fernando and a 2023 second-rounder, Adrian Wojnarowski of ESPN tweets.
However, Thompson isn't staying with the Hawks. He's being forwarded to the Kings, with guard Delon Wright going to Atlanta.
All the players in the three-way deal have expiring contracts. Thompson will make $9.7MM next season, while Dunn will secure just over $5MM and Fernando will collect $1.8MM. Wright will make approximately $8.5MM next season.
The move pushes the Celtics another $3MM below the luxury tax threshold, Bobby Marks of ESPN tweets. Dunn had a player option on his contract and opted in earlier this week, which made the trade viable.
After nine seasons in Cleveland, Thompson played in 54 regular-season games with the Celtics, including 43 starts. He averaged 7.6 PPG and 8.1 RPG.
Dunn's lone season in Atlanta was a washout due to an ankle injury.  He only appeared in four regular-season games, but does give the Celtics another option for their backcourt rotation with Kemba Walker getting traded this offseason.
Fernando, an early second-round pick in 2019, appeared in 89 regular-season games during his first two years in the league.
Thompson gives the Kings some frontcourt insurance with Richaun Holmes entering free agency.
Wright averaged 10.0 PPG and 3.6 APG in 27 games with Sacramento after being acquired from Detroit at the trade deadline. Wright can play either guard spot and will likely slide into a backup role with Atlanta.