Hoops Rumors is breaking down the 2021 offseason for all 30 NBA teams, revisiting the summer's free agent signings, trades, draft picks, departures, and more. We'll evaluate each team's offseason moves, examine what still needs to be done before opening night, and look ahead to what the 2021/22 season holds for all 30 franchises. Today, we're focusing on the Boston Celtics.
---
Free Agent Signings:
Note: Exhibit 10 deals aren't included here.
Trades:
Draft picks:
Contract extensions:
Marcus Smart: Four years, $77,087,995. Includes trade kicker ($1MM or 15%; whichever is lesser). Starts in 2022/23.
Robert Williams: Four years, $48,000,000 (base value). Includes $6MM in incentives. Starts in 2022/23.
Josh Richardson: One year, $12,196,084. Starts in 2022/23.
Departing players:
Carsen Edwards
Evan Fournier
Tristan Thompson
Kemba Walker
Other offseason news:
Danny Ainge stepped down as president of basketball operations.
Moved head coach Brad Stevens to the front office, naming him president of basketball operations.
Hired Ime Udoka as new head coach.
Added Will Hardy, Aaron Miles, Damon Stoudamire, Ben Sullivan, and Garrett Jackson to coaching staff; Jamie Young, Jerome Allen, Scott Morrison, and Jay Larranaga departed coaching staff.
Salary cap situation:
Remained over the cap and above the tax line.
Carrying approximately $143.2MM in salary.
Used full taxpayer mid-level exception ($5.89MM) to sign Dennis Schröder.
Would need to shed salary to use rest of non-taxpayer mid-level exception ($3,646,000) or bi-annual exception ($3,732,000), since using either would create a $143MM hard cap.
Five traded player exceptions available, including one worth $17.1MM and another worth $9.7MM.
Lingering preseason issues:
The trade for Juan Hernangomez can be finalized on September 15, when Kris Dunn's aggregation restriction lifts.
The Celtics will have 14 players on guaranteed contracts, plus Jabari Parker on a small ($100K) partial guarantee. They'll have to decide whether to carry a 15th man and – if so – whether Parker will be that player. Parker's salary would become 50% guaranteed if he makes the opening night roster.
The Celtics have one open two-way contract slot.
Al Horford is eligible for a veteran contract extension until October 18 (extend-and-trade limitations are in place).
---
The Celtics' offseason:
Even after an underwhelming showing in 2020/21, it wouldn't have been a huge surprise if the Celtics favored continuity this summer, attributing last season's struggles to bad luck with COVID-19 and injuries and betting on a bounce-back year in 2021/22.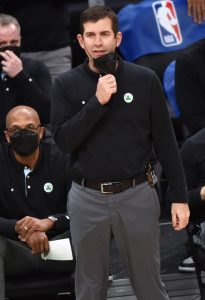 Instead, Boston made major changes at nearly every level of the organization. The Celtics will head into the fall with a new president of basketball operations and a new head coach, and without their highest-paid player from the last two seasons.
Entering the 2021 offseason, Brad Stevens was the fifth longest-tenured head coach in the NBA and Danny Ainge was the third longest-tenured head of basketball operations. Coaches and executives who have been around that long often make their own decisions on their futures rather than being forced out the door, and it appears that was the case with Ainge — he stepped down from his role rather than being fired. Stevens wasn't fired either, as his move from the sidelines to the front office actually represented a promotion, putting him in position to hire his replacement.
That replacement will be Ime Udoka, an established NBA assistant who had been viewed as a future head coach for years due in large part to the time he spent under Gregg Popovich, both in San Antonio and with Team USA. While it's difficult to predict how a first-time head coach will adapt to his new position, Udoka will be supported from the get-go by many of the Celtics' top players. He was reportedly endorsed by Jayson Tatum, Jaylen Brown, and Marcus Smart after working closely with them during the 2019 FIBA World Cup.
Kemba Walker was also a member of that 2019 U.S. team, but by the time Udoka was hired by the Celtics, Walker had already been sent to Oklahoma City, as Stevens wasted no time making the first trade of his executive career.
The deal, which essentially saw the C's swap Walker and the 16th overall pick for Al Horford, created financial flexibility for the team this year and next, but the jury's still out on how it will affect the team on the court. Walker battled knee injuries during his time in Boston and Horford was great during his last stint with the franchise, but Horford may not be able to recapture his old form at age 35, and a healthy Walker remains a very dangerous offensive player. Throw in the fact that the No. 16 pick was eventually used on Alperen Sengun, one of the standouts of Summer League, and it's possible Stevens' first trade will eventually come back to haunt him.
For now though, the deal makes some sense for the Celtics. With the help of the money saved by swapping Walker for Horford, Boston was able to trade for Josh Richardson to replace departed free agent wing Evan Fournier, and sign Dennis Schröder, who will be handed many of Walker's minutes at the point.
Richardson and Schröder had up-and-down seasons in 2020/21, but they have the ability to be better going forward. Richardson is an athletic, versatile defender who is comfortable with switching and guarding multiple positions, while Schröder should emerge as Boston's third-most reliable scorer behind Tatum and Brown.
Floor spacing could be an issue for the Celtics, but there's intriguing upside if Udoka can figure out how to get Richardson, Schröder, and Juan Hernangomez open, comfortable looks. None of the three connected on more than 33.5% of their three-point attempts in 2020/21, but Richardson's and Hernangomez's career rates are much higher, and Schröder made 38.5% of his threes in '19/20.
Stevens was most active on the trade market this offseason, agreeing to five deals so far, but the work he did with contract extensions shouldn't be overlooked. Rather than attempting to clear long-term money in the hopes of eventually opening enough cap space to make a run at a third star alongside Tatum and Brown, Stevens doubled down on the current core, signing Smart, Robert Williams, and Richardson to extensions.
Those deals don't necessarily mean that all three players are part of the Celtics' long-term future — they might actually be easier to trade on their new contracts. In recent years, the C's have faced challenges on the trade market due to their lack of mid-level salaries — two years ago, for instance, Smart was the only player besides Tatum and Brown who was earning between $5MM and $32MM. That made it difficult to acquire starter- or rotation-caliber players on the trade market.
Boston's big Gordon Hayward trade exception helped matters last year, making it possible to acquire Fournier, but taking on significant salary via a trade exception is no longer as practical due to the team's luxury tax situation. Having movable contracts in the $10-20MM range like Smart's, Williams', and Richardson's will give the Celtics more options in the trade market going forward, even if they end up deciding to keep those players.
---
The Celtics' upcoming season:
The Celtics were considered one of the best bets to come out of the Eastern Conference entering the 2020/21 season. They finished with a .500 record and won just a single game in the postseason.
This year's version of the Celtics seems likely to fall somewhere in between those two extremes. Boston is clearly a tier below the conference's best teams (Brooklyn and Milwaukee), but there's no reason to think the team can't contend for a top-four spot in the East.
Udoka's ability to get the hang of the head coaching job quickly will be a key factor in determining the Celtics' upside, as will the ability of Schröder and Smart to handle the point guard job. However, the club's ceiling could ultimately be decided by whether the young players can take a step forward.
Can Williams stay healthy and take on a bigger role at center? Can Payton Pritchard and Aaron Nesmith establish themselves as reliable rotation regulars? Do Tatum and Brown have another level to reach? If the answer to all of those questions is "yes," the Celtics will be in line for a nice bounce-back year.
---
Salary information from Basketball Insiders was used in the creation of this post.