SEPTEMBER 7: The Bulls have officially signed Johnson to his two-year deal, according to ESPN's Bobby Marks (Twitter link), who reports that the big man will get a $250K partial guarantee if he's not waived by opening night. The second year is non-guaranteed until July 2, 2022.
---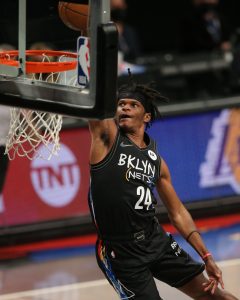 SEPTEMBER 6: After being waived by the Nets to make room for an un-retiring LaMarcus Aldridge, unrestricted free agent power forward Alize Johnson has agreed to a new two-year contract with the Bulls, per Adrian Wojnarowski of ESPN (Twitter link).
Wojnarowski reports that Johnson will sign a two-year, $3.6MM minimum-salary contract with Chicago. Johnson marks the third Bulls signing of the Labor Day weekend, to go along with 6'6″ forward Stanley Johnson and 6'4″ wing Matt Thomas.
The 6'7″ Alize Johnson was selected by the Pacers with the No. 50 pick in the 2018 draft out of Missouri State. After spending his first two NBA seasons with the Pacers and their NBAGL affiliate the Fort Wayne Mad Ants, he next suited up for the Raptors 905 during the pandemic-truncated 2021 G League Orlando "bubble" season. The 25-year-old averaged 16.6 PPG, 13.3 RPG, 4.2 APG and 1.3 SPG across 15 contests for the Raptors' G League affiliate.
Johnson then joined the Nets for the remainder of the season, flashing some athletic promise in a deep-bench role. Over 18 games, he averaged 5.2 PPG and 5.0 RPG in 10.5 MPG for Brooklyn during the 2020/21 season.
Positionally, both Johnsons could help fill the void left by recently-departed reserve power forward Lauri Markkanen. Markkanen, a restricted free agent this summer, was moved to the Cavaliers through a four-year, $67MM sign-and-trade, in a three-team deal with the Blazers that netted Chicago future draft equity, as well as reserve forward Derrick Jones Jr.
Functionally, Jones and the Johnsons are very different players from Markkanen. The new reserve trio should collectively be able to provide versatile defense at either forward position, though none sport the long-range shooting acumen of seven-footer Markkanen.
It's worth noting that, prior to the Bulls' trio of deals, the team was carrying 13 players on guaranteed contracts. The details on Chicago's latest contracts are unclear, but there won't be room for both Johnsons and Thomas on the regular season roster unless another player is traded or waived.