6:43pm: The Nets have officially signed Aldridge, according to a team press release.
---
4:19pm: The Nets are signing veteran power forward LaMarcus Aldridge and have waived Alize Johnson, according to ESPN's Adrian Wojnarowski. Brooklyn has officially announced the release of Johnson.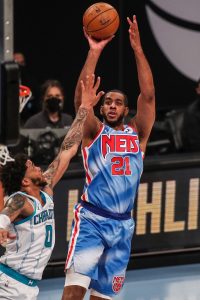 Aldridge will receive a veteran's minimum contract worth $2.6MM for one year. That was all the Nets could offer due to salary cap constraints.
Aldridge retired last season due to an irregular heartbeat, but received medical clearance to resume his career on Thursday and Brooklyn was considered his likely destination. He played five games with the Nets before the condition forced him to temporarily end his career.
"I retired in April based on what I believed was the wisest precautionary decision for my personal health at the time, but further testing and evaluation by several top physicians has convinced the doctors, myself and the Nets that I'm fully cleared and able to return to the rigors of the NBA," Aldridge said in a statement to ESPN. "I loved my brief time with Brooklyn and am excited to rejoin the team in pursuit of a championship."
Aldridge, who also dealt with heart issues in 2017, started talking about a comeback last month. He averaged 13.7 points and 4.5 rebounds in 21 games last season with the Spurs as the team's starting center. San Antonio opted to go with younger players and ultimately reached a buyout agreement, allowing him to sign with Brooklyn in late March. He was waived after announcing his retirement.
Johnson, 25, appeared in 18 games for Brooklyn in 2020/21, averaging 5.2 PPG and 5.0 RPG in just 10.5 minutes per contest.
Since he was on a three-year, minimum-salary contract, Johnson can't be claimed off waivers using the minimum salary exception, but a team with a trade exception big enough to absorb his non-guaranteed $1.76MM salary could submit a claim. If he goes unclaimed, Johnson will become an unrestricted free agent on Sunday.