Hoops Rumors is breaking down the 2021 offseason for all 30 NBA teams, revisiting the summer's free agent signings, trades, draft picks, departures, and more. We'll evaluate each team's offseason moves, examine what still needs to be done before opening night, and look ahead to what the 2021/22 season holds for all 30 franchises. Today, we're focusing on the Chicago Bulls.
---
Free agent signings: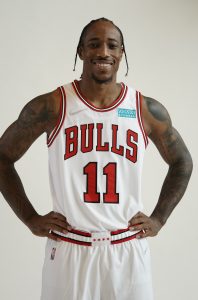 Note: Exhibit 10 deals and non-guaranteed camp invites aren't included here.
Trades:
Draft picks:
2-38: Ayo Dosunmu

Signed to two-year, minimum-salary contract. Signed using minimum salary exception.
Draft-and-stash signings:
Marko Simonovic (No. 44 pick; 2020 draft)

Signed to three-year, minimum-salary contract. Signed using mid-level exception.
Contract extensions:
Departing players:
Al-Farouq Aminu
Lauri Markkanen
Tomas Satoransky
Garrett Temple
Daniel Theis
Thaddeus Young
Other offseason news:
Coby White underwent shoulder surgery and is expected to miss the start of the 2021/22 season.
Patrick Williams sprained his ankle and is expected to miss the start of the 2021/22 season.
Salary cap situation:
Remained over the cap and below the tax line.
Carrying approximately $131.9MM in salary.
Hard-capped at $143MM.
$10,742 of non-taxpayer mid-level exception still available ($9,525,258 used on Alex Caruso and Marko Simonovic).
Full bi-annual exception ($3,732,000) still available.
One traded player exception ($5,000,000) available.
Lingering preseason issues:
The Bulls have 13 players on guaranteed contracts, so they could still fill two roster spots. Alize Johnson, Stanley Johnson, Tyler Cook, Daniel Oturu, and Matt Thomas all have non-guaranteed contracts and are expected to battle for a roster spot.
The Bulls have an open two-way contract slot.
Troy Brown is eligible for a rookie scale contract extension until October 18.
Nikola Vucevic is eligible for a veteran contract extension until October 18.
Zach LaVine is eligible for a veteran contract extension all season.
---
The Bulls' offseason:
The Bulls got a jump on the offseason at the 2021 trade deadline when they sent two future first-round picks and a recent first-round selection (Wendell Carter Jr.) to Orlando in a deal for All-Star center Nikola Vucevic.
The move – meant to catapult Chicago into the postseason – didn't make much of an impact in the short term. The team posted an underwhelming record of 12-17 after the deadline and didn't even make it to the play-in tournament, let alone the playoffs.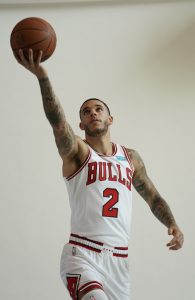 However, that trade wasn't made with just the 2020/21 season in mind. Vucevic remains under contract for the next two years, and Chicago's moves this summer have shown that deadline blockbuster was just the first of a series of win-now acquisitions made by a club pushing hard to end its four-year postseason drought.
Entering the summer, the point guard position was viewed as perhaps the greatest area of need for the Bulls, who had relied on 21-year-old Coby White as their starter last season. White underwent shoulder surgery this offseason that will sideline him to start the season, but even if he had been healthy, an upgrade would've been required.
The Bulls wasted no time in addressing the point guard spot, agreeing to acquire Lonzo Ball in a sign-and-trade deal with the Pelicans. In fact, the terms of that swap were agreed upon so quickly – they were reported within minutes of free agency opening – that the two teams are currently under investigation for possible tampering or "gun-jumping."
While Chicago may face a minor penalty as a result of that investigation, the addition of Ball is a good one. The former No. 2 overall pick is a solid play-maker and defender who has improved as a shooter in recent years. And landing another point guard – Alex Caruso – on a long-term deal helped further shore up the position. Caruso is a stout perimeter defender who will never be relied upon to score 15-20 points per night, but can knock down open shots and contributes on the court in a variety of useful ways.
Chicago's other major transaction this offseason was acquiring DeMar DeRozan in a sign-and-trade from San Antonio. I didn't love the move for the Bulls, who surrendered a productive player (Thaddeus Young) and a first-round pick in the trade and will pay DeRozan $81MM over three years, far more money than he seemed likely to have on the table from any other team.
Even if you throw out the assets and money involved and focus exclusively on DeRozan's on-court fit, I'm not fully sold. This Bulls team should be extremely dangerous offensively, but DeRozan, Vucevic, and Zach LaVine aren't exactly All-Defense candidates. Chicago will be relying heavily on the likes of Ball, Caruso, Patrick Williams, and Derrick Jones to help the team get defensive stops.
With White and Williams both expected to miss the start of the regular season due to injuries, the Bulls' depth will also be tested early in the year. Javonte Green and Tony Bradley are among those likely to take on bigger roles than they're accustomed to, and the club will have to hope at least one or two of its young players show they're ready to play regular minutes too. Rookies Ayo Dosunmu and Marko Simonovic will be in that mix, as will Troy Brown, a fourth-year pro who is still just 22 years old but is coming off a down year.
While losing a first-round pick in the DeRozan sign-and-trade hurt, the Bulls did well to get a first-rounder back in their Lauri Markkanen sign-and-trade. Chicago had to accept an unwanted contract in the deal, but Jones' expiring deal isn't onerous, and he should actually play a role for the Bulls in 2021/22.
---
The Bulls' upcoming season:
The Bulls are well-positioned to improve upon a disappointing 31-41 season, but projecting a Hawks-esque jump into the top five of the Eastern Conference may be overly optimistic. When Atlanta leaped from the lottery to the Eastern Finals last year, it was due more to the growth of their young core than the contributions of their veteran free agent additions, many of whom missed significant time with injuries.
In the Bulls' case, there aren't a ton of young core players they can bank on to improve — Markkanen is gone, LaVine appears pretty close to his ceiling, and it may not be realistic to expect big leaps from White and Williams when they're coming off injuries and will miss the training camp and the preseason.
That means the Bulls' 2021/22 season could come down to whether or not LaVine still has another level and how quickly newcomers like Ball, DeRozan, and Caruso get assimilated and make an impact. We can include Vucevic in that group too, since he'll be getting extensive practice time with his new team for the first time this fall after having to adjust on the fly in March.
If the Bulls' new-look roster jells quickly, we should expect the club to vie for a top-six spot in the East. If not, Chicago will likely have to fight its way into the postseason via the play-in tournament.
---
Salary information from Basketball Insiders was used in the creation of this post.